Bandaje Arabi Falls is a popular trekking destination located in the Western Ghats region of Karnataka, India. The falls are situated in the Chikmagalur district, near the town of Koppa. The trek to Bandaje Arabi Falls involves a moderate level of difficulty and is suitable for people with some experience in trekking.
The trek begins at the base of the falls and follows a well-marked trail through the dense forest. Along the way, you will encounter several streams and small waterfalls, as well as a variety of flora and fauna. The trail culminates at the base of the falls, where you can enjoy the sight and sound of the cascading water.
To reach the falls, you can take a bus or taxi from the nearest town of Koppa. It is advisable to carry plenty of water and snacks, as well as insect repellent and sun protection. It is also a good idea to wear sturdy shoes and comfortable clothing for the trek.
Overall, the Bandaje Arabi Falls trek is a great way to experience the natural beauty of the Western Ghats and get some exercise in the process.
About the Bandaje Arbi falls trekking, Charmadi Ghat:
Location: Charmadi Ghat section, Western Ghats, Dakshina Kannada district
Distance from Bangalore: 310 Km
Trek starting point: Bandaje village near Mundaje near Ujire town
Trek difficulty Level: Moderate
Source: Internet
Total trek distance: 25 Km in total
Time to trek: 9 hours in total
Camping: At the Arbi falls
Best time to trek: Post monsoon
Reaching Bandaje Arbi Falls Trek starting point:
If you want to reach Bandaje Arbi falls trek starting point, you can use Karnataka roadways site to book online tickets to Ujire: http://ksrtc.in.Ujire is the nearest town to the trek starting point. From Ujire, you can hire a jeep to the Bandaje village. That would cost you around Rs. 750. Bandaje village is also the last point to pack breakfast & get fresh in the morning.
An alternative route to reach Ujire from Bangalore, in case you do not find a bus, is through Dharamsthala. You can also get fresh in the morning near the washrooms near the main temple. Ujire is just 10 Km from Dharamsthala and you can catch a local bus to Ujire. It would take around 20-25 minutes from Dharamsthala.
Source: Intenet
Bandaje Arbi falls Trekking Permission, Charges & Contact:
Permission is required for this trek. Just the permission is not alone, you will also be provided a guide by the forest department which is a mandatory you cannot avoid that. Guide charges are rupees 1000 per day and individual forest entry charges are rupees 200 per person. But you can also bargain for the Guide charges. 
Sometimes, the jeep driver from Ujire will arrange forest work papers for you and by the time you reach Gowdara Mane or Bandaje village, you will have all the paper works done.
Bandaje Arabi falls Contact details:
Belthangady wildlife range office, Kudremukh national park: 08256-233189
Forest Officer: 99013 46952
Guide – Sanjay: 97408 83257
Kishore Gowda, Gowdara Mane (Landlord Bandaje): 99019 39829
Bandaje Arbi falls full trek route guide:
Bandaje village -> Bandaje Arbi falls ( 8-9 Kms; 5-6 hours) -> camping at night atop the falls ->Ballarayanadurgada Kote fort (5 kms; 2-3 hours) -> Durgadahalli (2 kms; 1 hour) – > Sunkasale (10 kms by Auto, 1 hour)
Bandaje Arbi falls GPS trek route guide to Ballarayanadurgada Kote fort:
Ballarayanadurgada Kote fort to Durgadahalli GPS trail:
More details of the Bandaje Arbi falls trek:
Start for the trek in the morning on day one.

By afternoon, reach the Bandaje Arbi falls

Camp there 

Start for the BallarayanaDurga fort the next morning

Reach there by noon

Reach Durgadahalli by afternoon

From Durgadahalli either walk or take transport to sunkasale at a distance of 10 kms

From Sunkasale to Horanadu at a distance of 30 km by local bus

Horanadu to Bangalore by KSRTC bus
The Complete Guide to Ballalarayana Durga Trek
Ballalarayana Durga – Bandaje falls trek is a combination of two treks — Ballalarayana Durga and Bandaje Arbi — because many do not know they can go all the way to Bandaje waterfalls when we say Ballalarayana Durga trek. Arbi in local language means "waterfalls" and hence the words Bandaje Arbi, Bandaje Arbi falls, Bandaje falls are used interchangeably.
Ballalarayana Durga trek lies in Chikmagalur, nestled in the Western Ghats of Karnataka, just 280 kilometres away from Bangalore. Chikmagalur is known for its coffee plantations and lush greenery. and the trek adds a unique flavour to its landscape. The Ballalarayana Durga trek holds an abandoned fort from the 17th century at its peak, and a gushing waterfall in the end. Watching the water falling from the snout to almost a 1,000 feet below is a sight that sets your hearts racing!
And just for this view, the Ballarayana Durga – Bandaje Arbi trek is a must do. Ballalarayana Durga is a monsoon favourite trek and is preferred by beginners and experienced trekkers alike. Anyone can do the Ballalarayana Durga trek with a bit of preparation.
1. The Initial Forest Section
Although the forest section is short, it is filled with life. Watch out for its age old trees, a variety of insects, birds and flora.
The forest filled with the scents of flora are a treat to walk in the monsoons.
The Himalayan Meadow-Like Shola Grasslands with Shola forests
The grasslands on the trek are so pretty that they almost resemble the Ali and Bedni meadows of the Himalayas.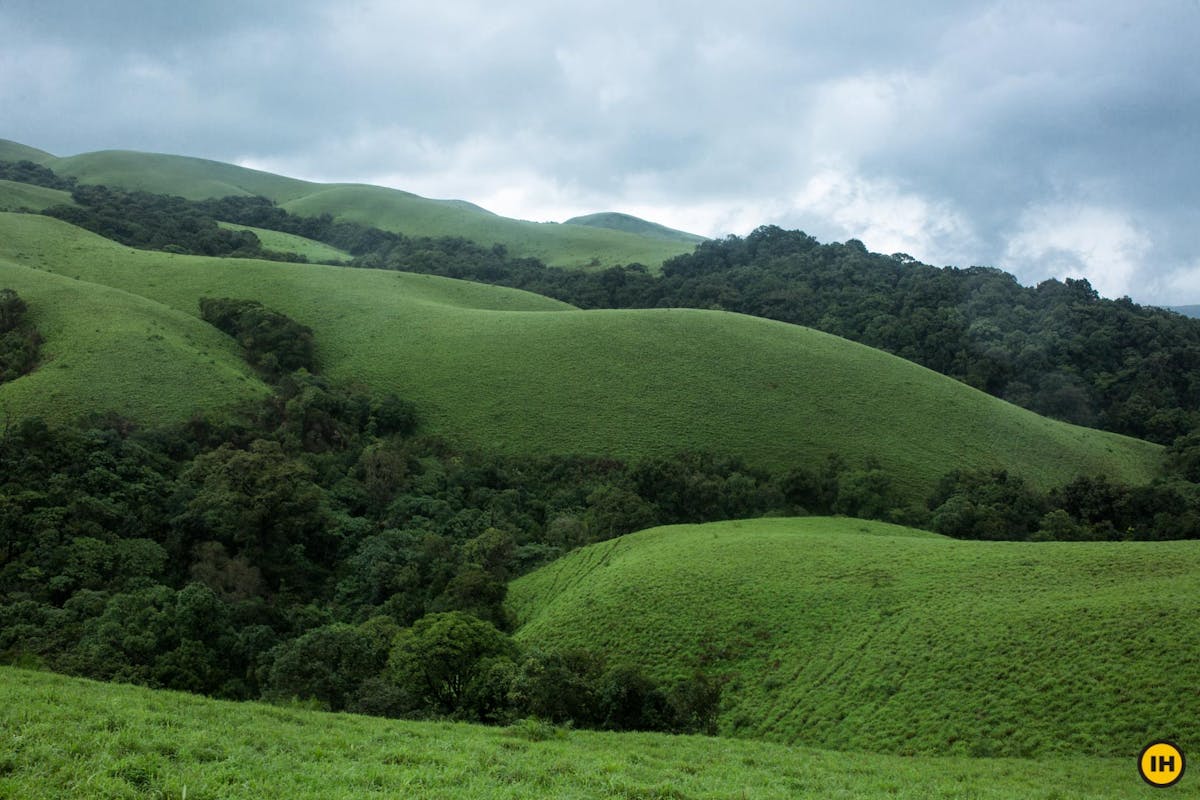 The grasslands turn verdant during monsoons which mimic the high altitude grasslands.
Waterfall view from the snout
There are only a handful of treks that allow you to see the water falling from the snout over a 1,000 feet to the ground. And Ballalarayana Durga trek is one of them!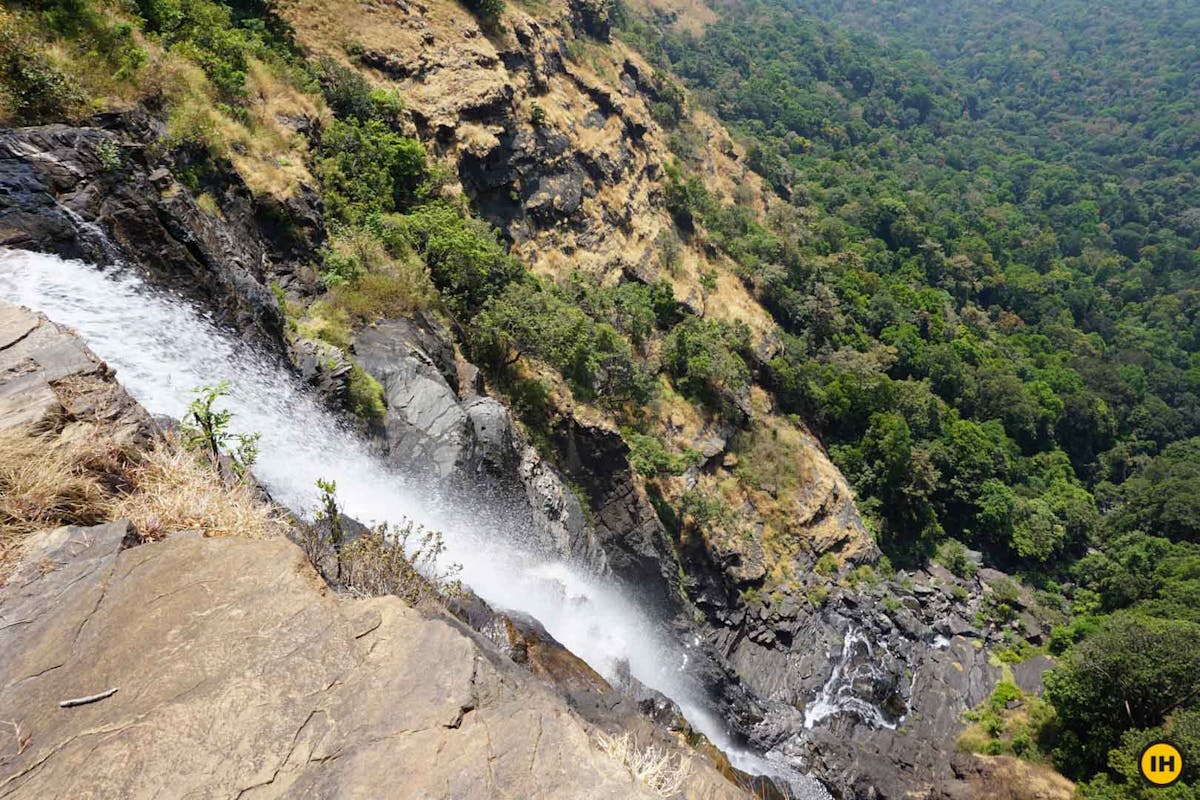 A breathtaking view from the snout of the waterfall, where you see the water falling all the way to the bottom. Picture by Suhas Saya
Trail Information
Ballalarayana durga trek starts from a relatively higher altitude, hence the climb to the fort is not too tiring. However, you will descend almost 1,300 feet to bandaje waterfalls and get back up the same way, covering approximately 6.5 kilometres overall.
Based on the distance and the altitude gain, the trek is divided into two sections:
| Section I: Kalabhyraveshwara Temple to Ballalarayana Durga Fort
| Section II: Ballalarayana Durga Fort to Bandaje Falls
Trek distance: 3 km
Trek duration: 1 hour and 30 minutes
GPS coordinates of Kalabhyraveshwara temple: 13° 8'56.89″n 75°24'56.08″e
GPS coordinates of Ballalarayana durga fort: 13° 7'56.92″n 75°24'53.67″e
The trail starts from Kalabhyraveshwara temple behind which you camp the previous day.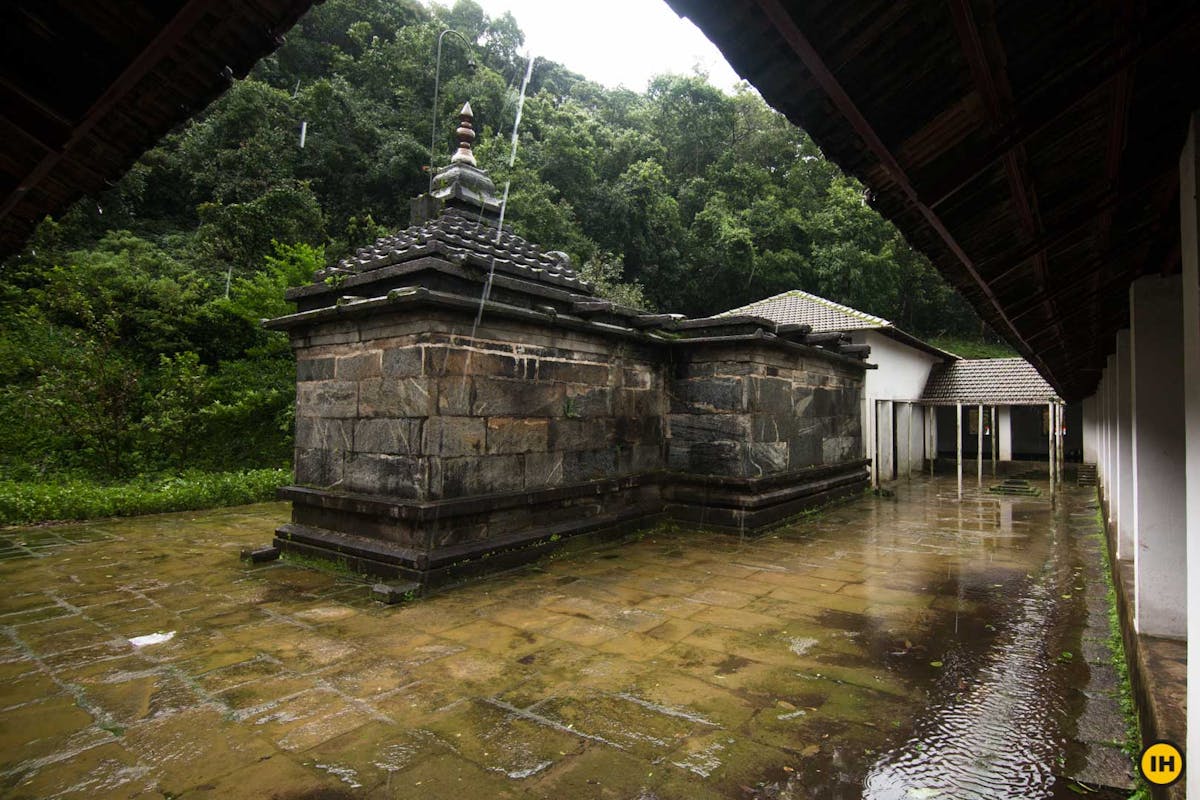 Kalabhyraveshwara temple complex from the inside. There is very little visitor count here.
The route from the temple till the initial forest section (from where the actual trek starts) is on a mud road that is moderately steep.
Jeeps and other SUVs can go all the way up to the start point covering a distance of 1 kilometre. If you are in a normal sedan, we recommend you park your vehicle at the temple and start trekking from there.
| Note: If you are arriving in the morning and not camping behind the temple, head towards the temple to park your vehicles and start the trek.
In about 900 metres the mud road turns left, while taking the right turn leads you to the Rani Jhari view point. It is a moderate ascent and takes about 10 minutes to reach the view point.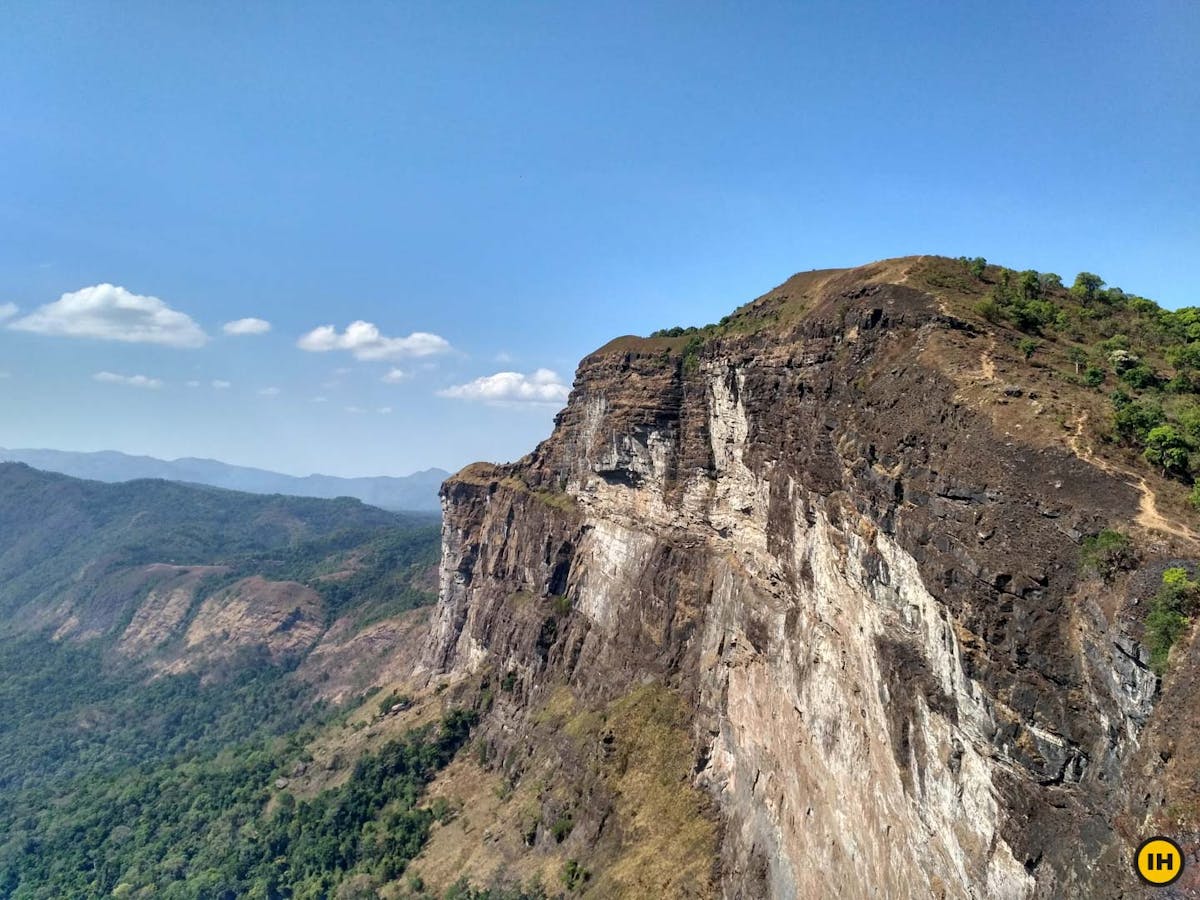 The Rani Jhari cliff as seen from the view Point.
Take the right to get a panoramic view of the entire 
Kudremukh National Park.
On a clear autumn day, you will see the valley stretched far and wide. In monsoons on the other hand, you may get to see only the initial view of the national park.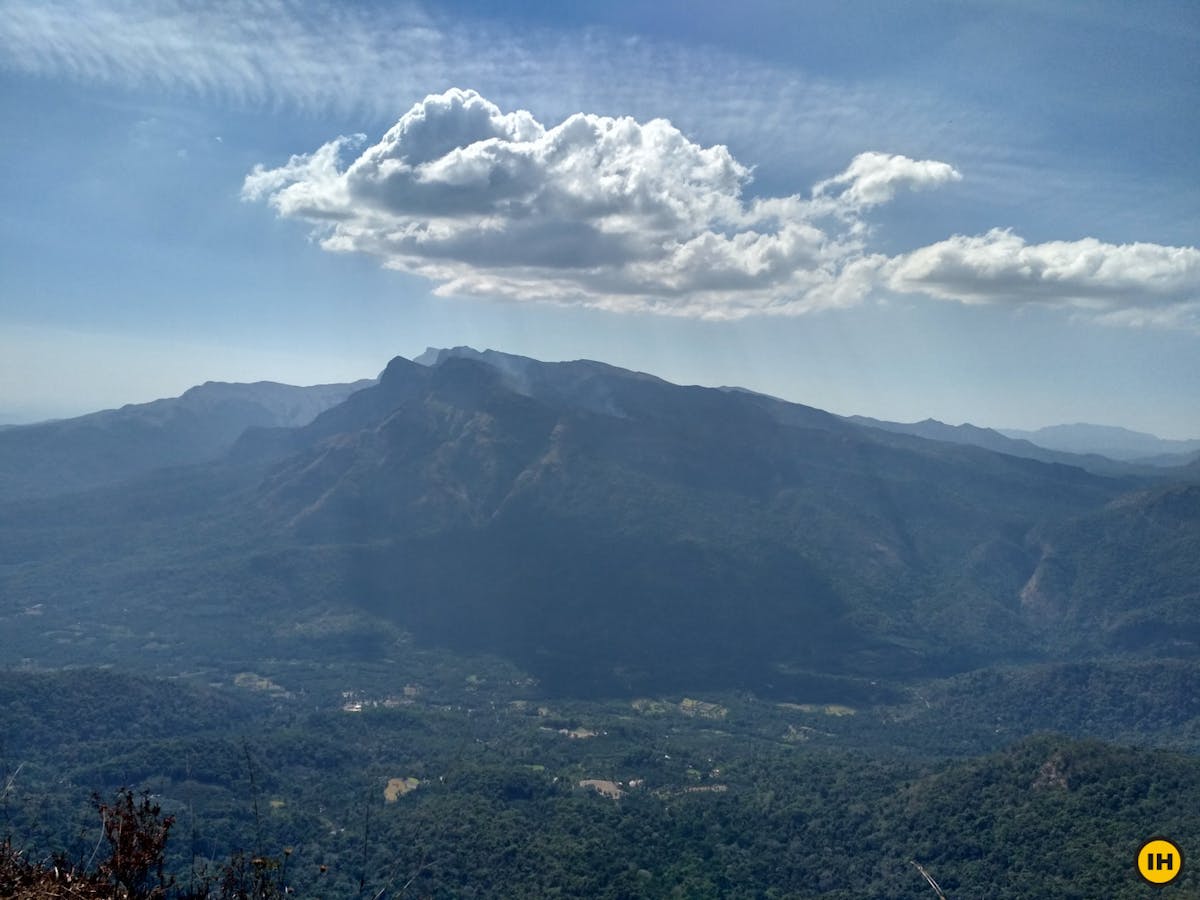 View of the entire Kudremukh range from Rani Jhari Viewpoint.
Once you arrive at the actual trek start point, notice an old forest department billboard, a dustbin and a check post-like barricade. On your left, you get the first glimpse of Ballalarayana Durga fort sitting atop the hill. This is where the initial forest section starts.
Follow the trail that leads you into the forest. In about 200 metres, at the fork, take the trail on your right that ascends. At the first and the second forest sections, always take the trail to your right when in doubt at the forks. This way you ensure you don't deviate off the trail and always be on track.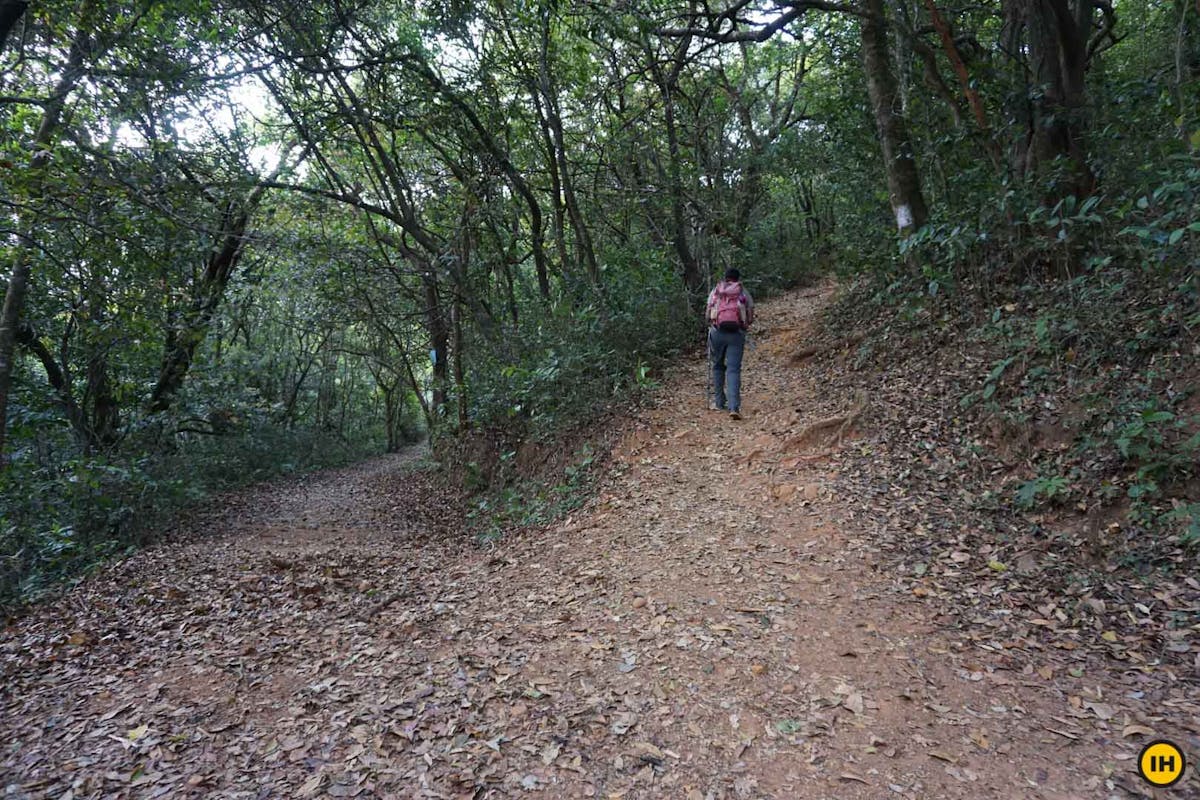 Take the path on your right to enter the forest.
Even though the trail is not challenging, you may get dehydrated due to exertion, especially in autumn and in months leading up to summer.
| Tip: Keep your water bottle handy and take small sips of water every 15 minutes. Do this even if you don't feel thirsty. this trick will keep you hydrated throughout and helps regain the water lost through sweat.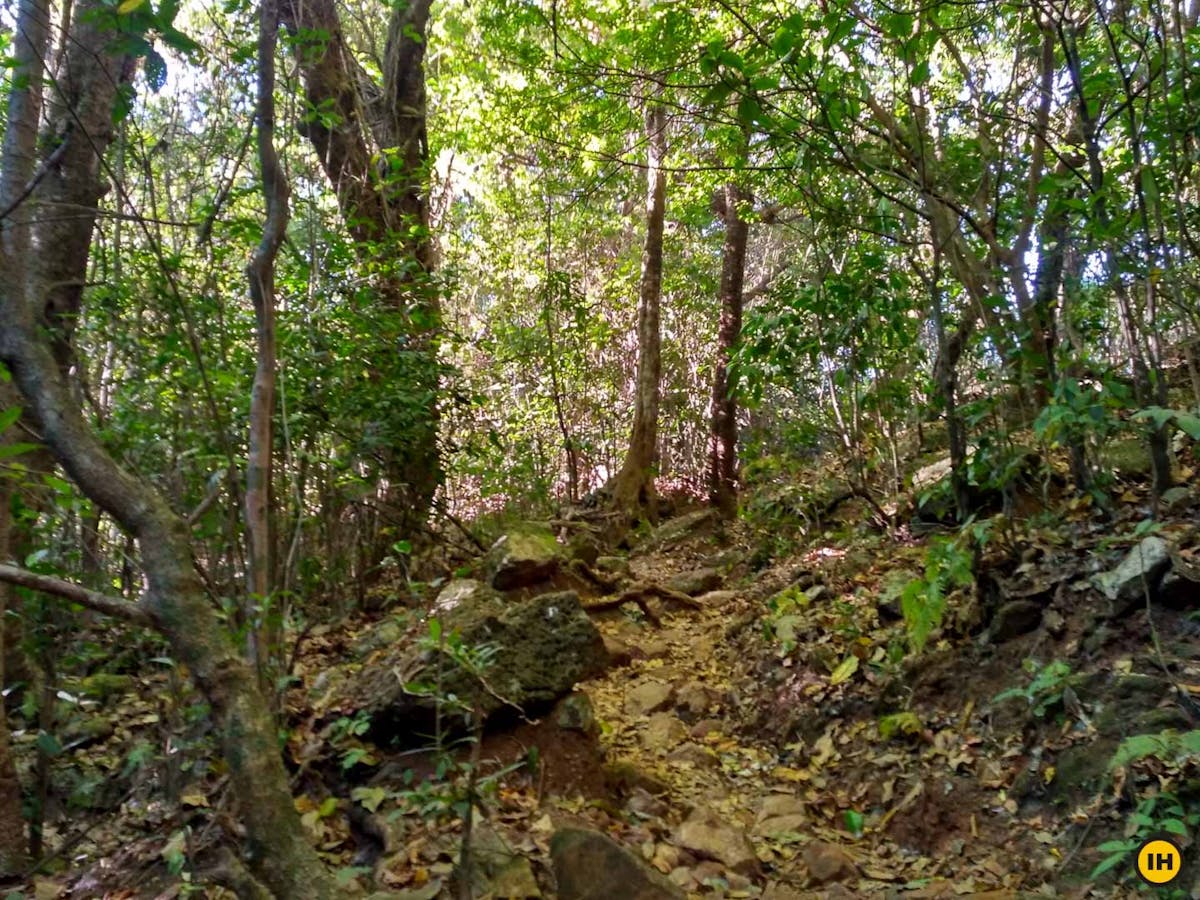 The lush green Shola forests of Chikmagalur.
Continue along the forest trail for 300 metres where you find a vertical rock face on the right with naturally formed uneven steps. Climb the rock to stay on the right path.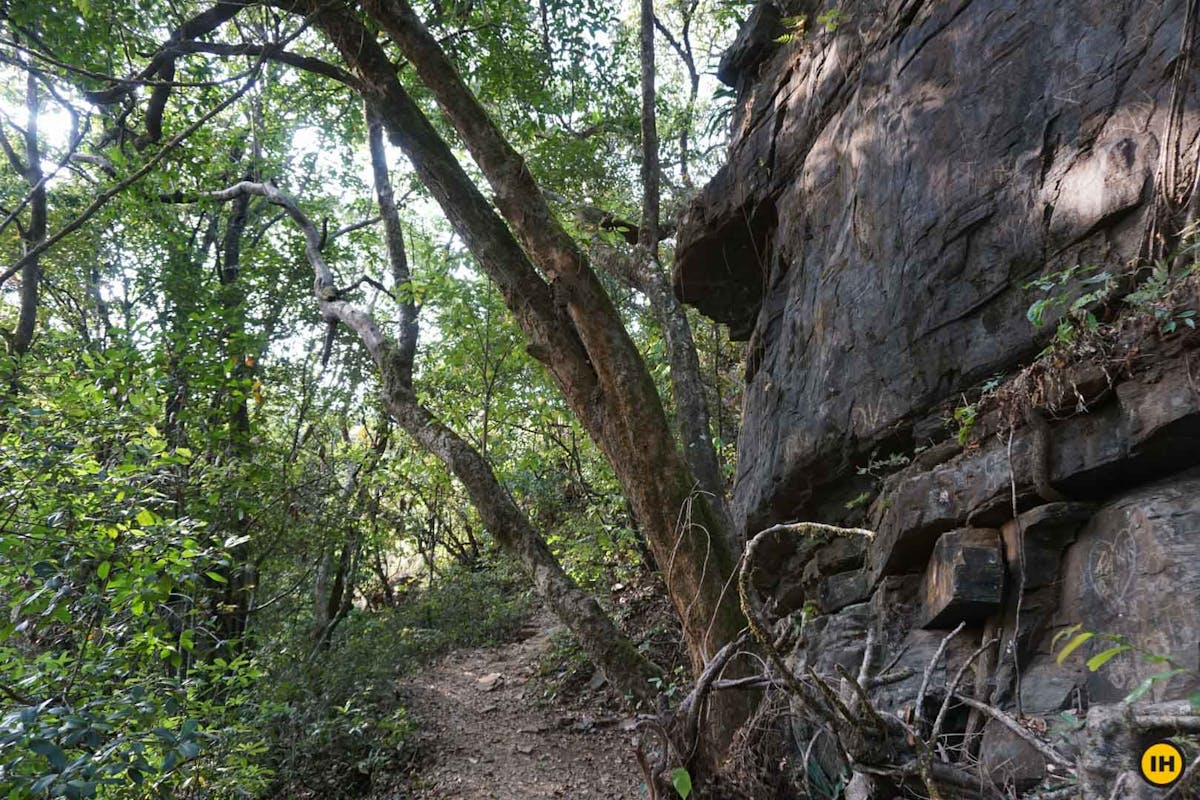 Follow the trail to the right to climb up this vertical rock face from the other side.
This particular section feels like you are transported to the magical world of Indiana Jones where there is an ancient rock cliff with vines hanging down. The section is slightly steep. Exercise caution while climbing up the steps.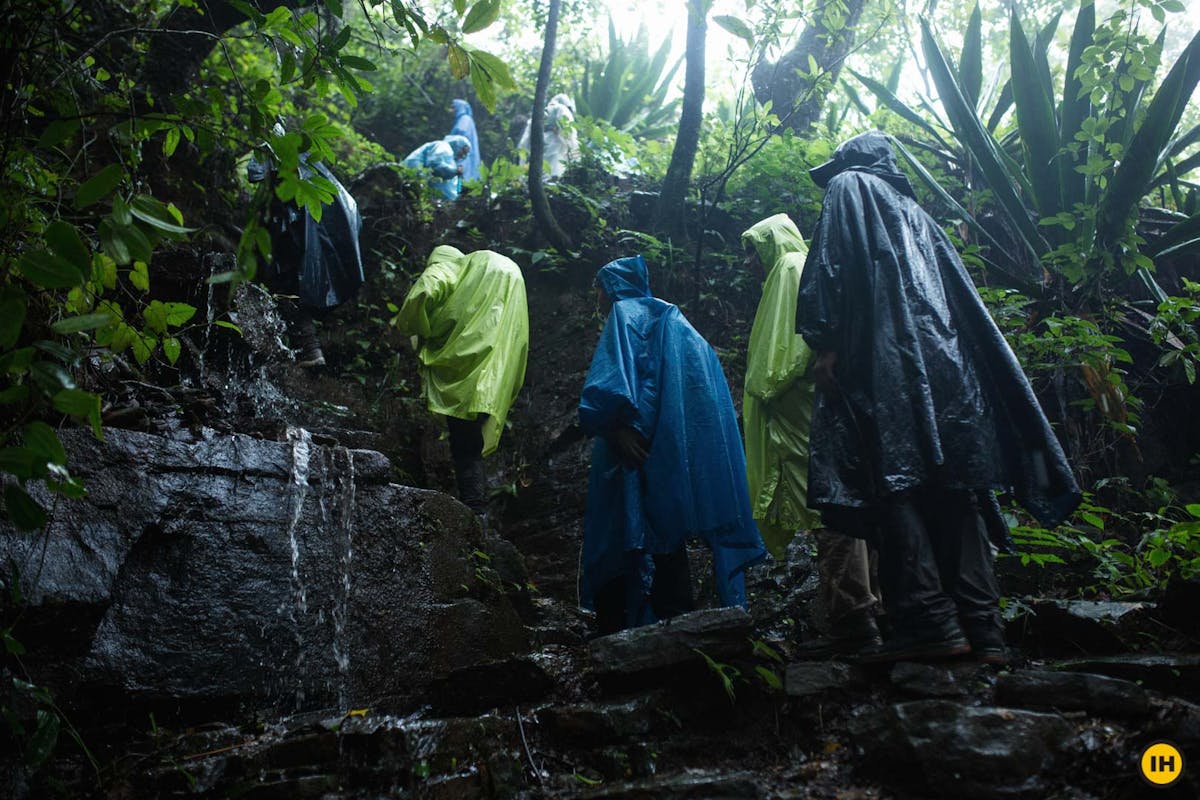 Trekkers cautiously ascend the rock face on uneven, naturally formed steps.
In monsoons the forests are filled with leeches.
| Tip: Apply Dettol or Savlon Liquid at the base to avoid leeches if you are scared of them. If you are not too worried, the best option is to remove them once you reach Bandaje falls. A few leeches sucking a few drops of blood won't do any harm.
In about 100 metres after you have climbed the vertical rock face and a crossed a zig-zag path, you will arrive at the first clearing. You will get the second view of Ballalarayana Durga fort from here. You cannot make out at first as the fort is in complete ruins. All that is remaining of the fort now is one or two rows of foundation rocks.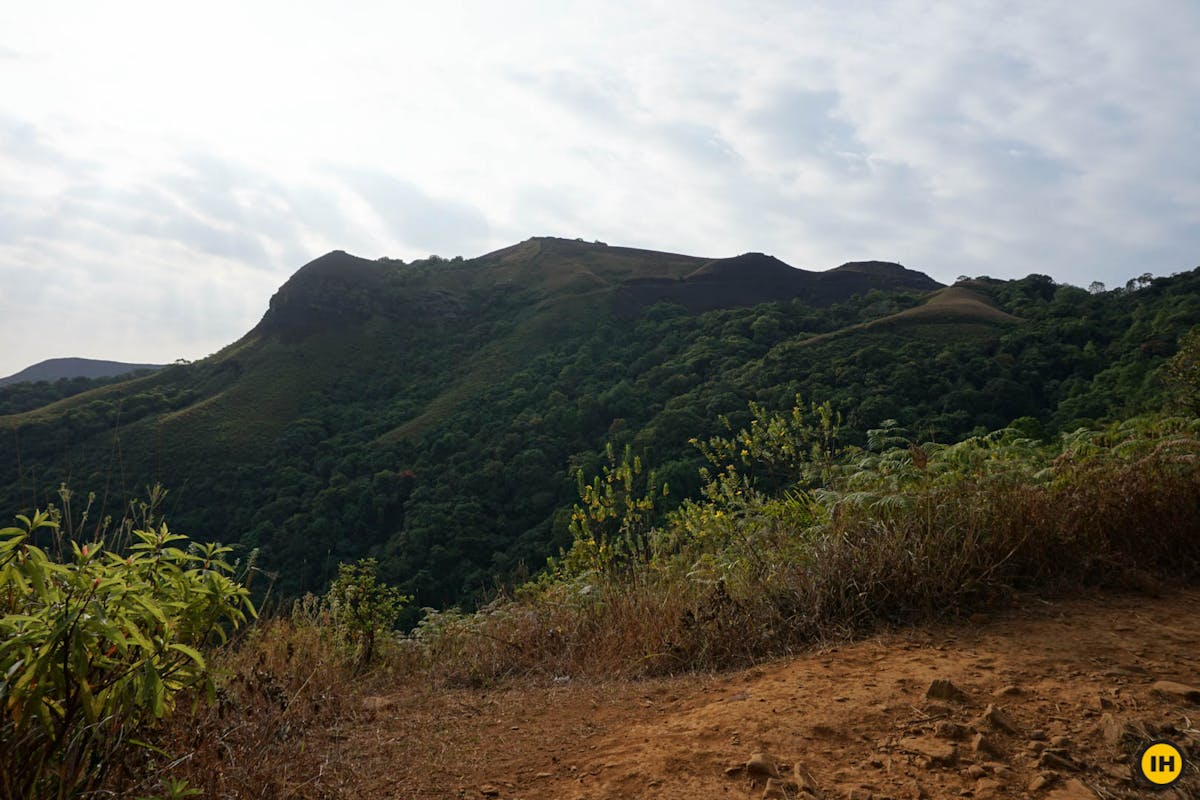 Ballalarayana Durga Fort is on the highest point as you see straight ahead from the first clearing.
Continue along the trail for 300 metres that goes into the second section of the forest. This forest section is almost as long as the first one, but there are a different variety of insects and flora here. You will also come across a small stream during monsoons.
The trail starts to ascend gradually with slippery sections on the landslide-prone slopes. Take support of the branches on the right or use your trekking poles to ascend safely.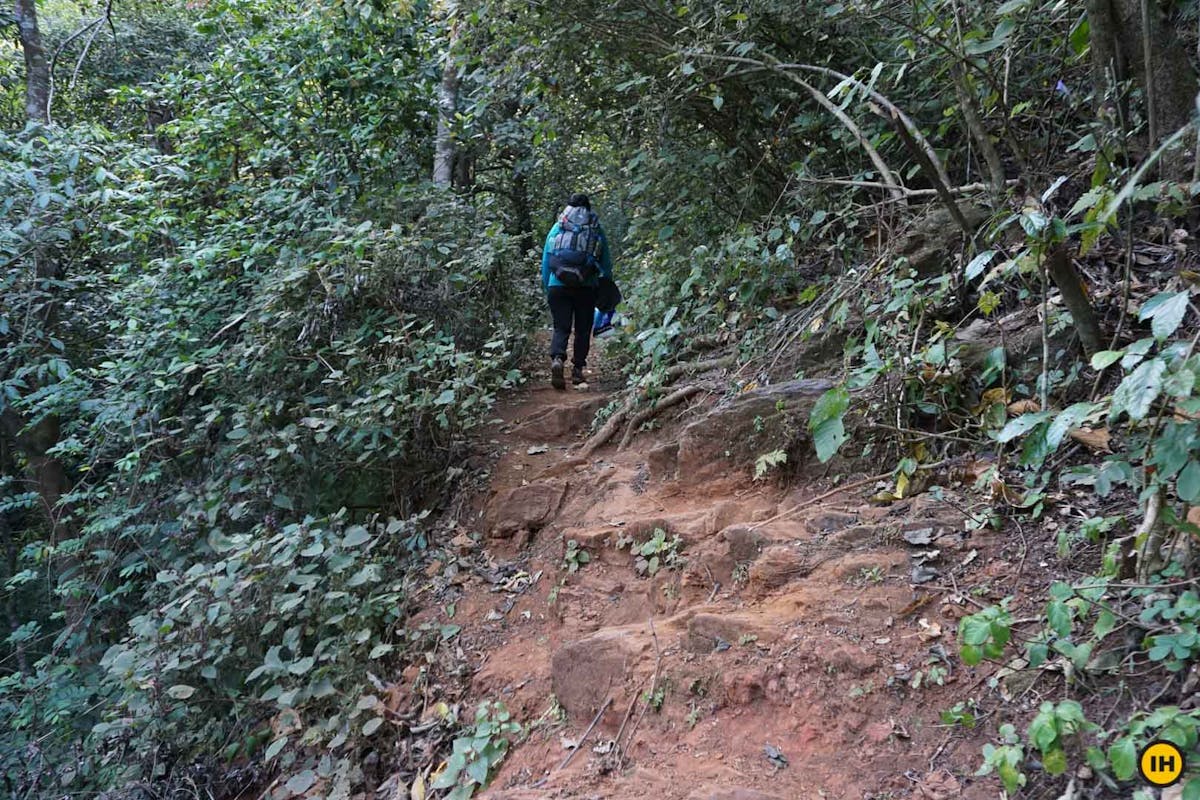 This section is prone to slips due to loose mud. Ensure you hold the branches on your right to support through the traverse.
| Note: Stay on your right at this section as there is a straight drop for almost a 50 feet on your left.
We recommend using two trekking poles on this trek. They help you get better grip on steep ascents and descents and reduce impact on your knees by absorbing shocks as a result of walking on constant rolling hills.
Before the small stream, there is another deviation. Take the trail on the right here as the trail to the left will lead you deep inside the forest that gets you off trail.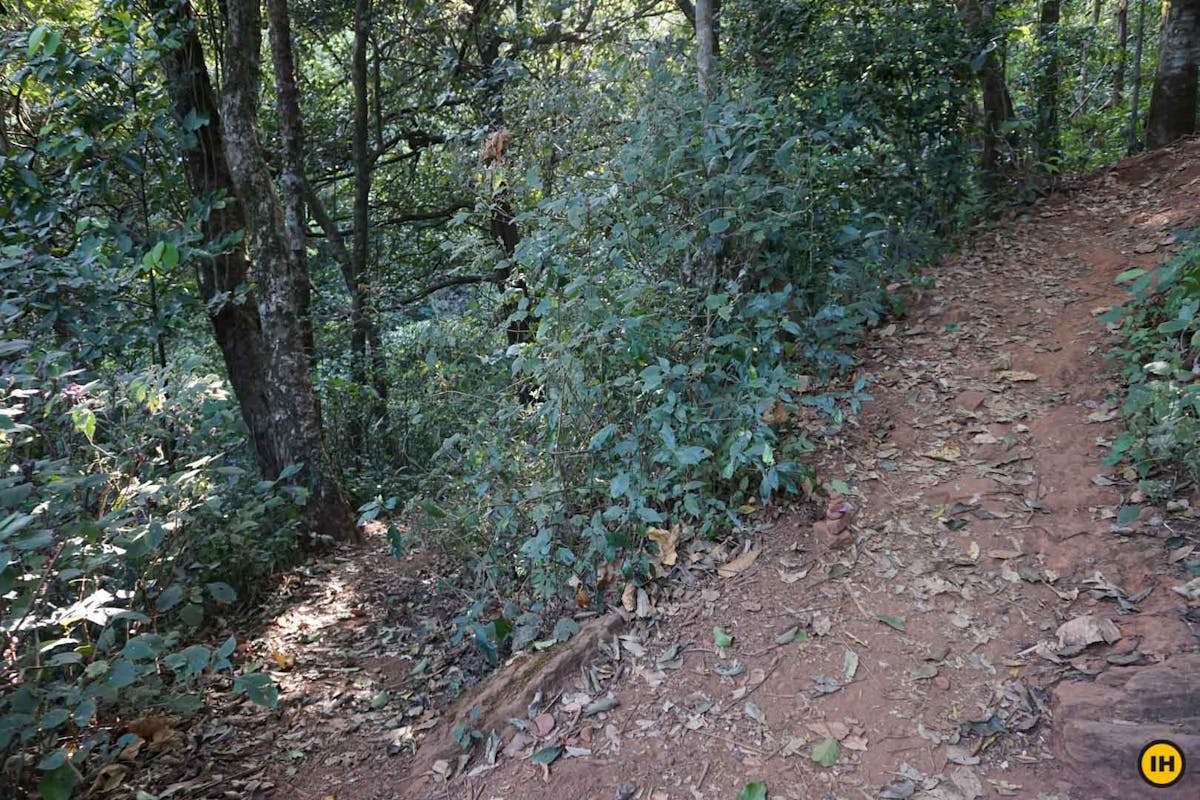 Stick to your right here as the trail on the left takes you deeper into the forest.
In approximately 200 metres you will reach the second clearing. From here, Ballalarayanadurga fort is accessible with a gradual ascent to the summit. This is your final push to the fort.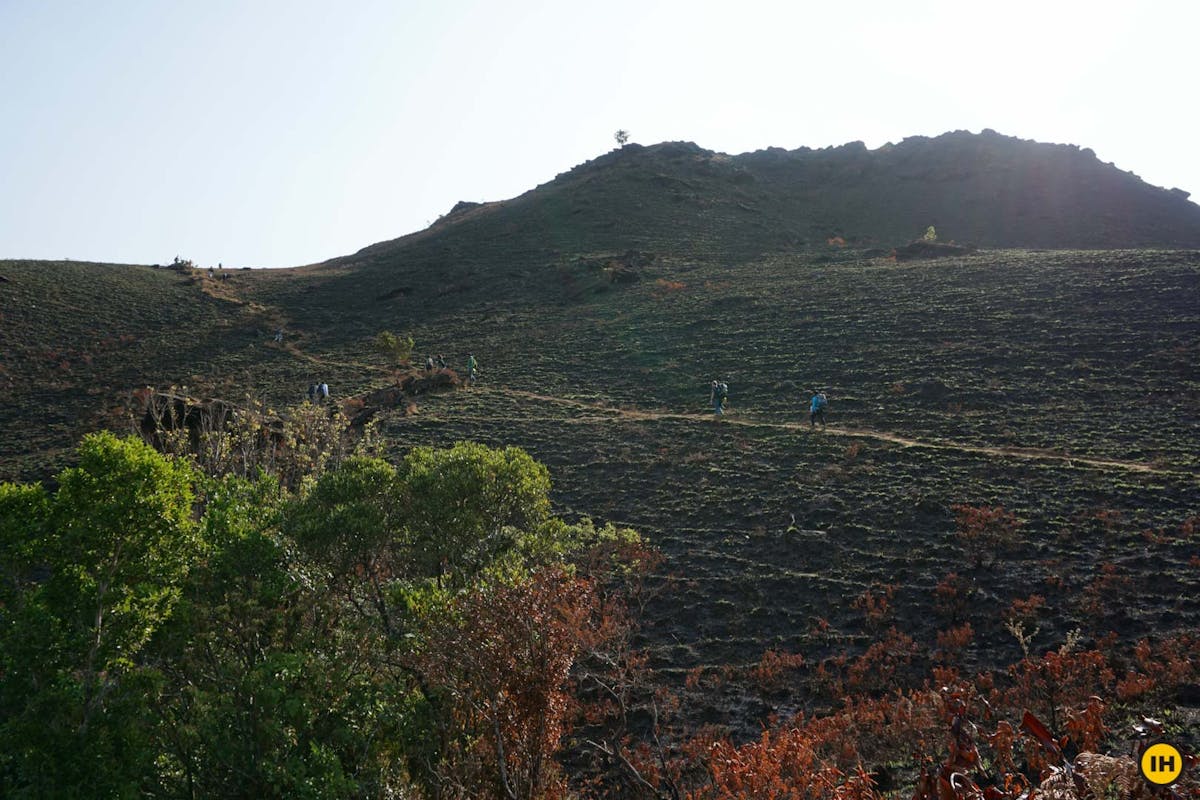 The final push to the fort is a gradual ascent. Make sure you use trekking poles on steep sections.
Upon reaching the fort which covers a large area, explore the ruins, the bastions on the edges, stone carvings and rest for a while by taking in the panoramic views of the Shola grasslands and Shola forests on one side, and Kudremukh national park and its peaks on the other. You can also see the Rani Jhari view point and the Kalabhyraveshwara temple from where you started your trek.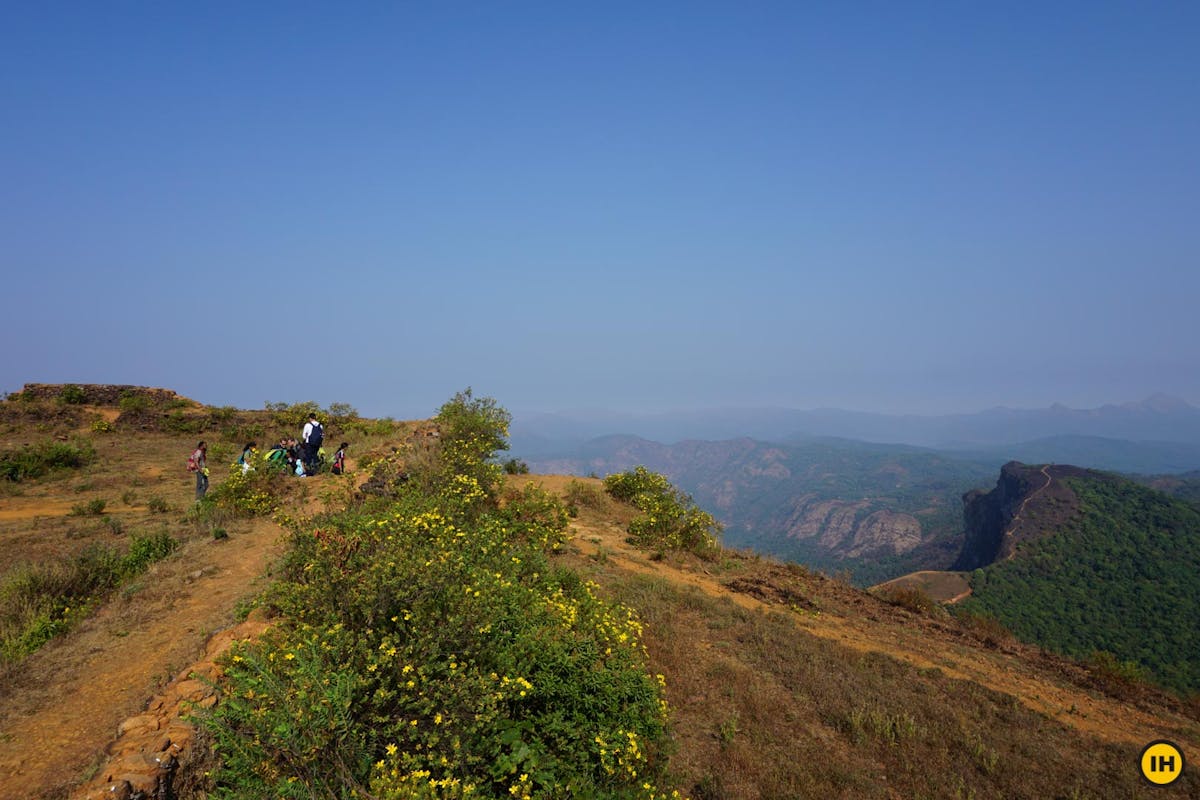 Ballalarayana Durga fort on your left and Rani Jhari view point and the Kudremukh range on your right. 
Trek Distance: 3.8 kilometres
Trek duration: 2 hours and 30 minutes
GPS coordinates of Ballalarayana Durga fort: 13° 7'56.92″n 75°24'53.67″e
GPS coordinates of Bandaje falls: 13° 6'20.55″n 75°24'53.44″e
From the Ballalarayanadurga fort, take the same route back from where you entered the fort. Descend for approximately 350 metres until you reach the point from where you had the last push to climb to the fort. At the deviation here, take the grassland trail on your left to proceed towards Bandaje falls. There is also an alternate route to Bandaje falls from Ballalarayana Durga fort.
| Tip: To get a clear idea of these routes, head to the section of route map and download the GPX file for Ballalarayana Durga – Bandaje Falls trek.
The vast expanse of the grasslands with thick, dark green forests in patches is a highlight here.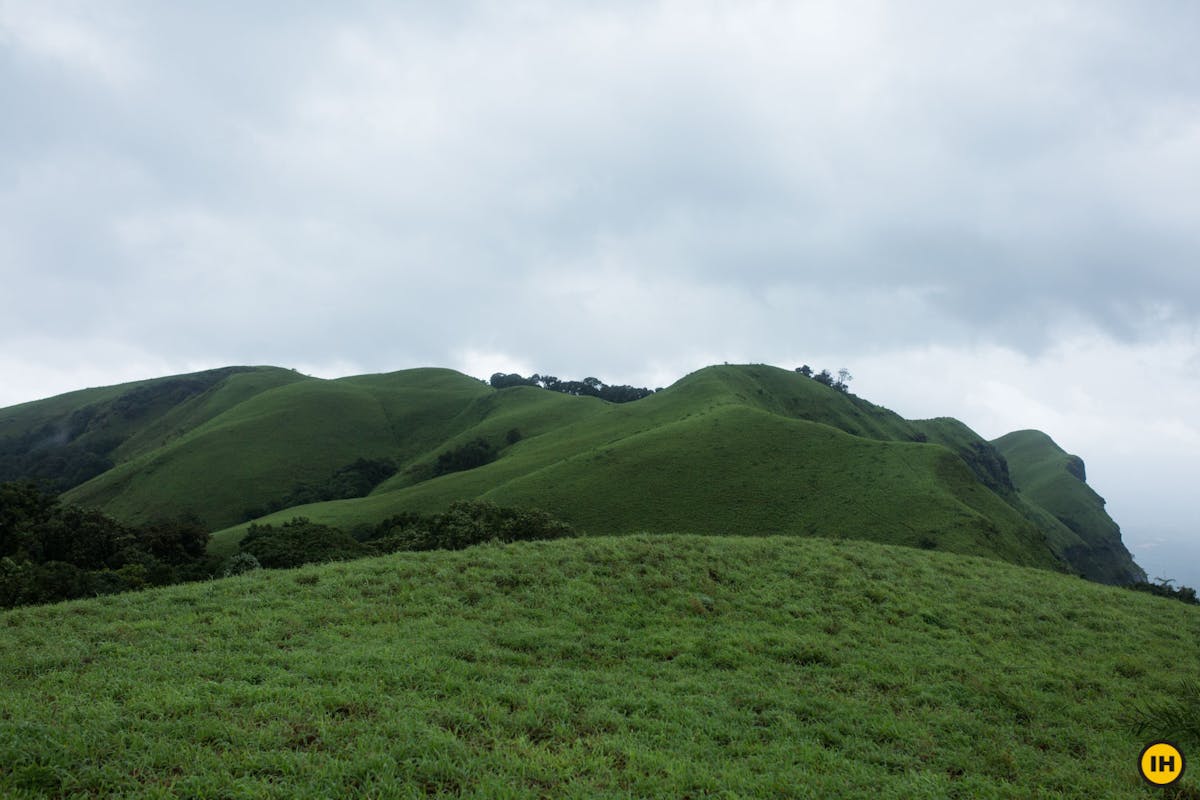 The Shola grasslands in monsoons are a treat to the eyes.
Continue on the trail while enjoying the 360° view of the Western Ghats. Don't be surprised if the clouds accompany you by floating right beside you!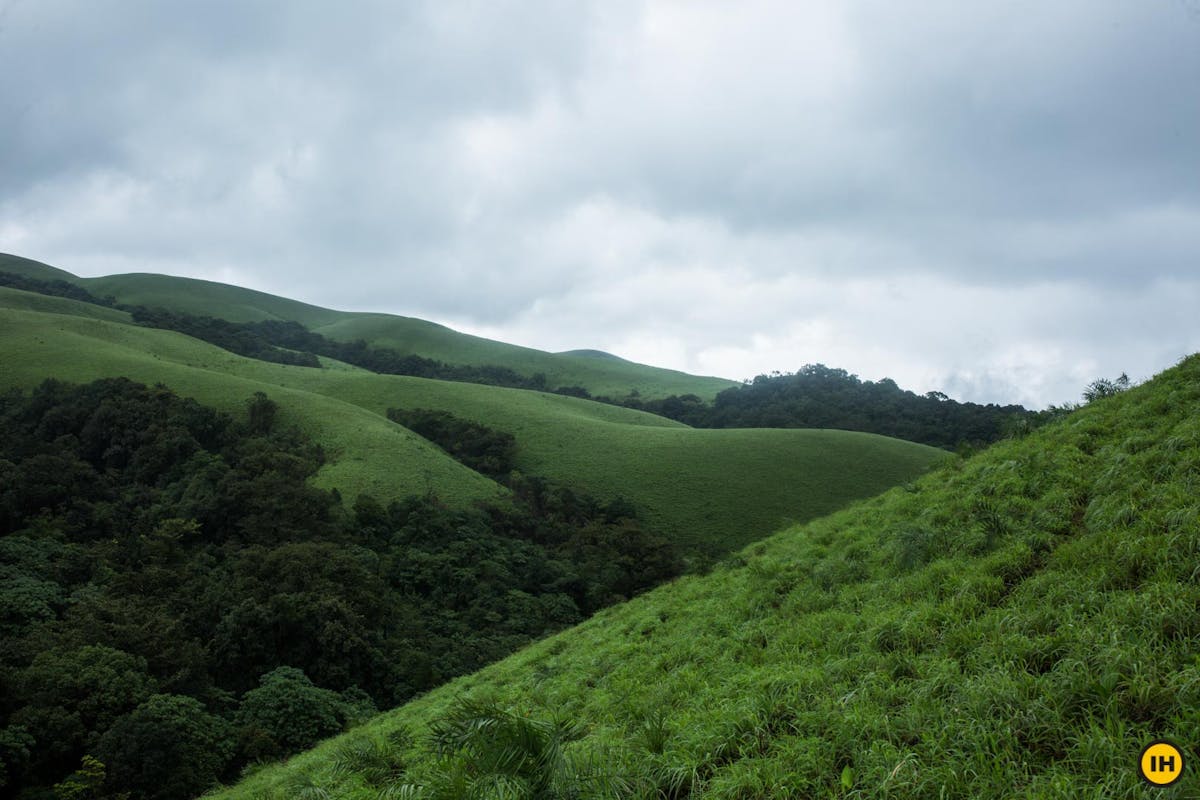 Thick Shola forests appear in patches throughout the grasslands.
In about a kilometre from the fort, there is an exposed section that acts like a wind tunnel. The wind blows from left and right. During monsoons the winds are so strong, they might even throw you off course for a few feet!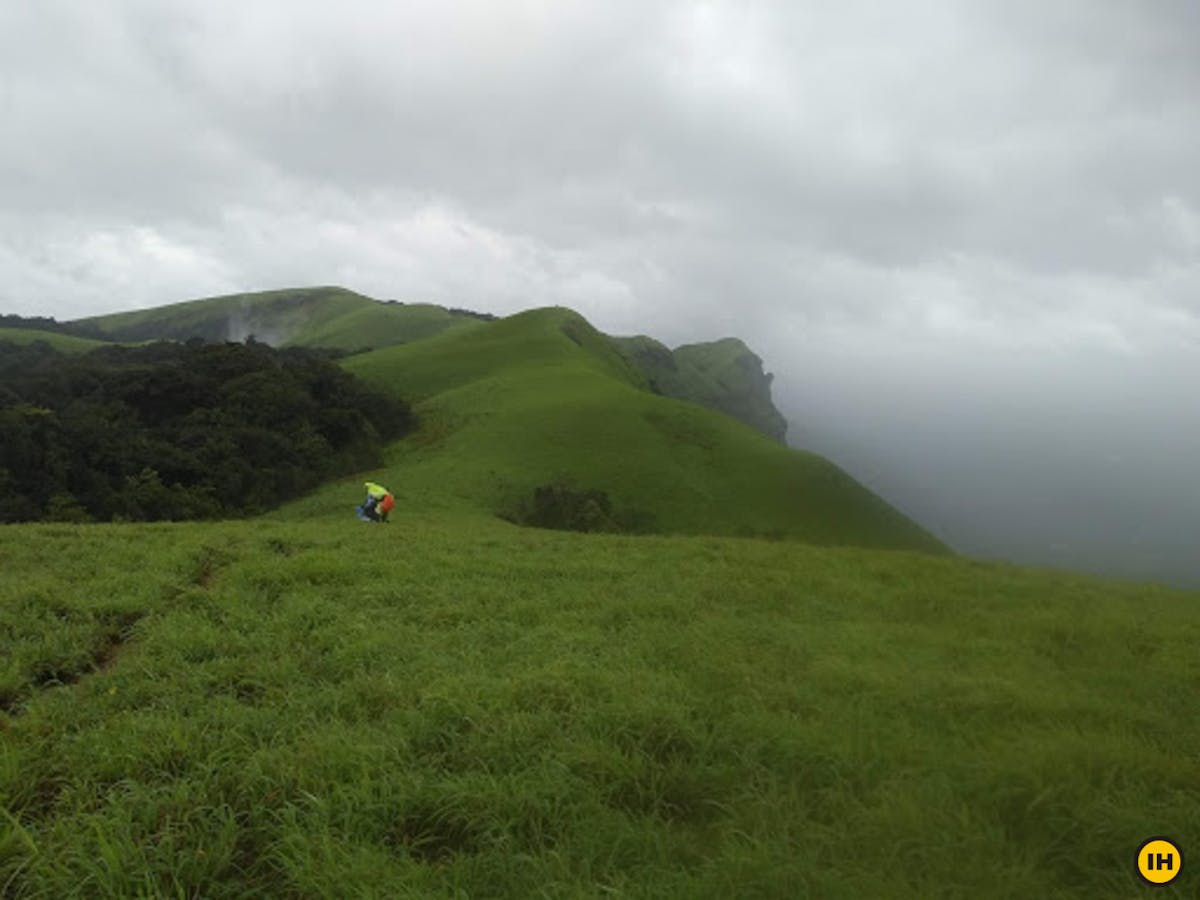 The wind tunnel section on the trail. Cross this section cautiously, especially in monsoons.
| Note: Tread very carefully at this section in the monsoons. Use your trekking poles to ground yourself with each step you take.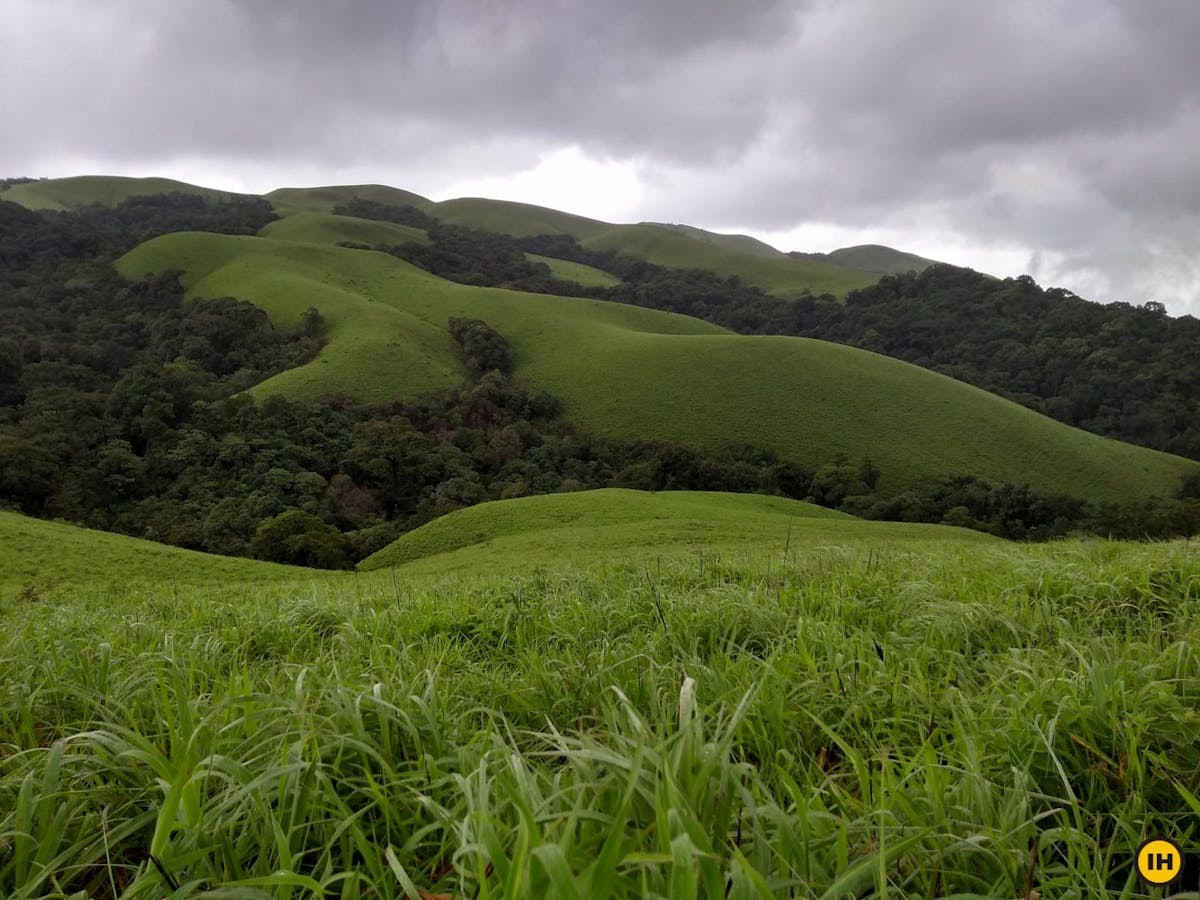 Lush green meadows fill your eyes until you descend down to the waterfall.
The entire trail from the fort till the waterfall is on rolling hills. You will come across three to four mounds which you ascend and descend. One interesting section on the grasslands is the rocky patch that cuts the trail.
This patch in autumn and winter looks desolate and is filled with sand in between rocks. It makes you wonder if any river flowed here once upon a time to carry all that sand! About 3.8 kilometres from the fort and two and a half hours later, the trail starts to descend towards the final downhill to reach Bandaje falls.
At this descent, you cannot make out if there is really a waterfall at the end. You will not hear the water flowing between rocks, neither will you see any signs of water. It is only when you reach the section filled with thick trees will you hear the water flowing. You start to smile from the inside upon hearing the sound of flowing water.
After a 4-hour journey, the thought of drinking the fresh, unspoilt water and dipping your feet to cool off brightens your mood. The first glimpse of the water gushing through rocks is a sight for sore eyes. The waterfall looks different in each season. In autumn and winter, the water gently flows until it drops down from the snout.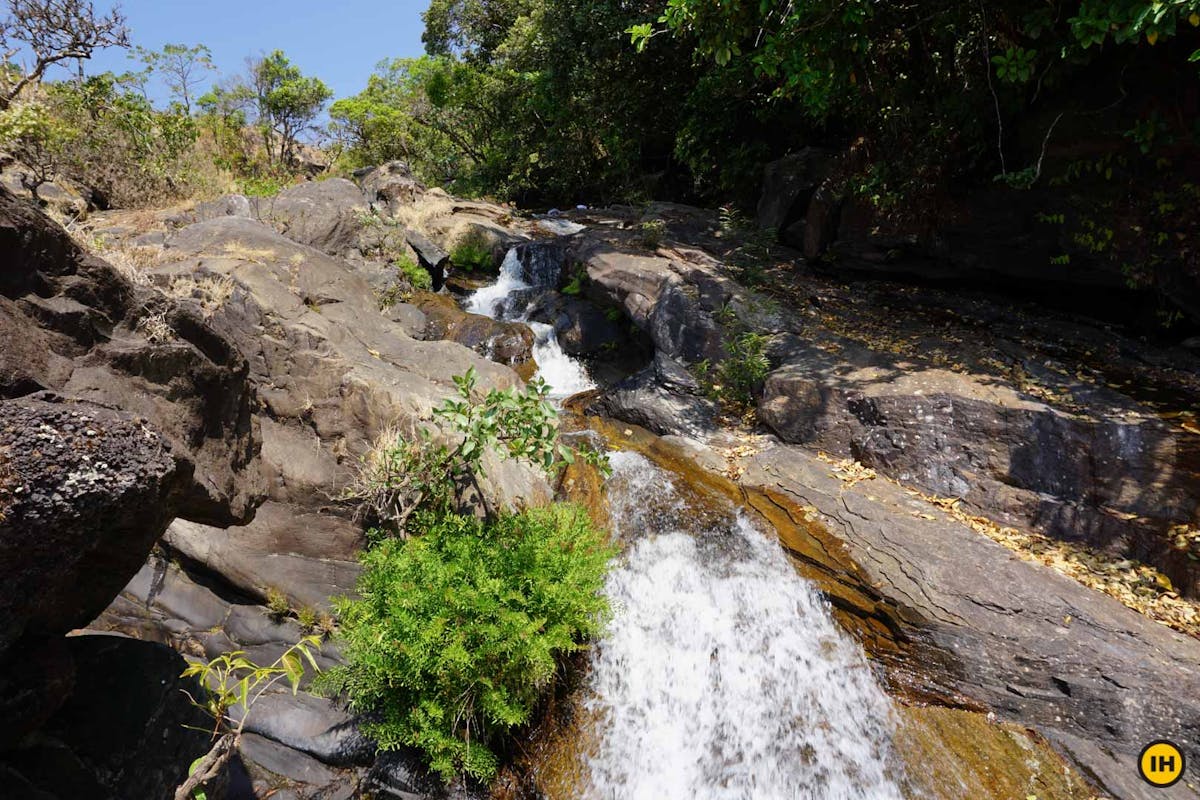 In autumn and winter the water starts to get thin, eventually drying up in summer.
On the other hand, in monsoons the water gushes with such force it looks as if it is milk that is flowing.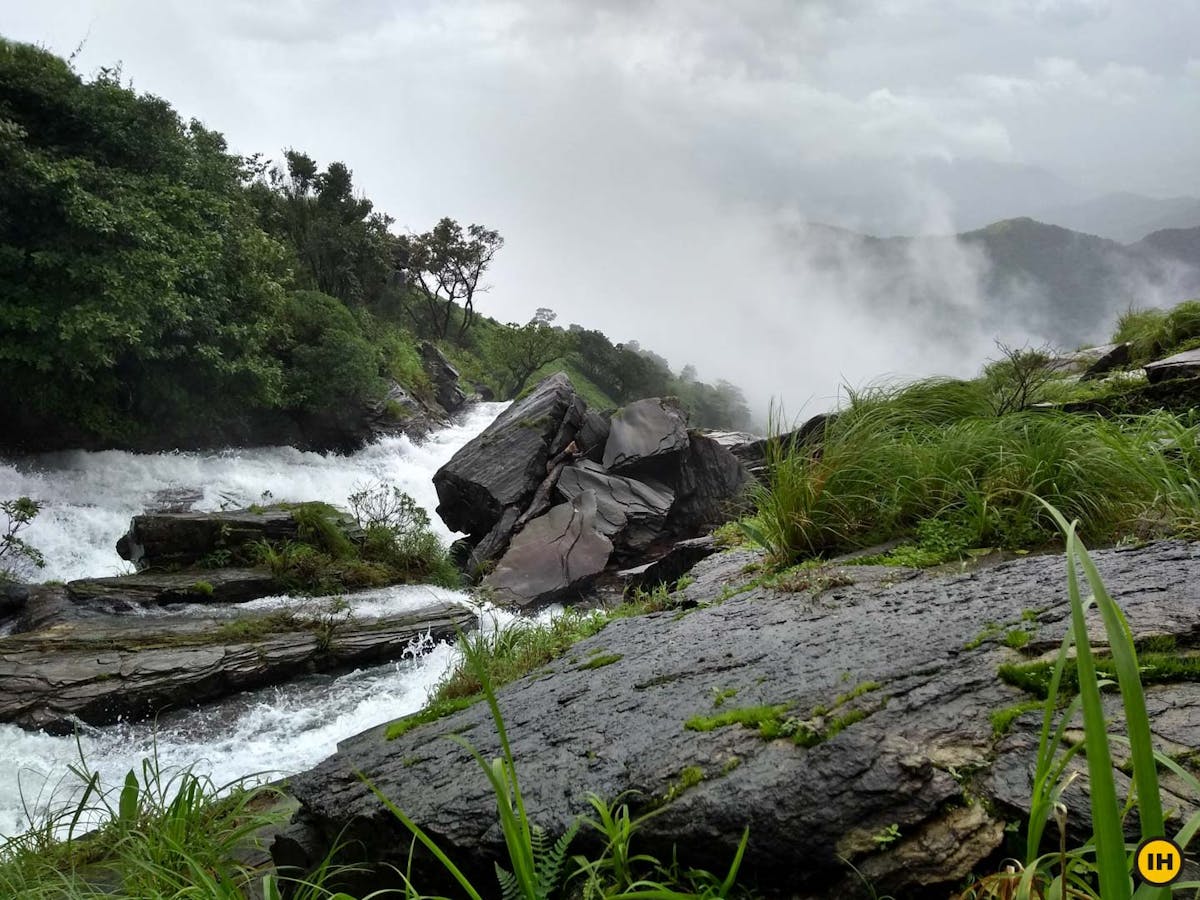 It is a completely different sight in monsoon. The water roars through the rocks in a fury.
It is an unforgettable experience to peek from the snout of the water and watch the waterfall to the depths more than 1,000 feet below you. However, this is not for a person who is faint-hearted. your heart skips a beat when you are nearing the snout!
| Caution: While it is extremely fun to watch the waterfall, always exercise caution and keep your body weight to the back. We recommend taking a friend along for this trek and he/she can act as a harness by holding your hands and staying back while you take a peek, and vice versa. If you are alone, lie down on your stomach and peek with only your head exposed from the snout.
Do not forget to take in the view from the snout of the waterfall. On a clear day, you may see the outline of Mangalore district on your right, whereas the forests of Dakshina Kannada district are always in front of you.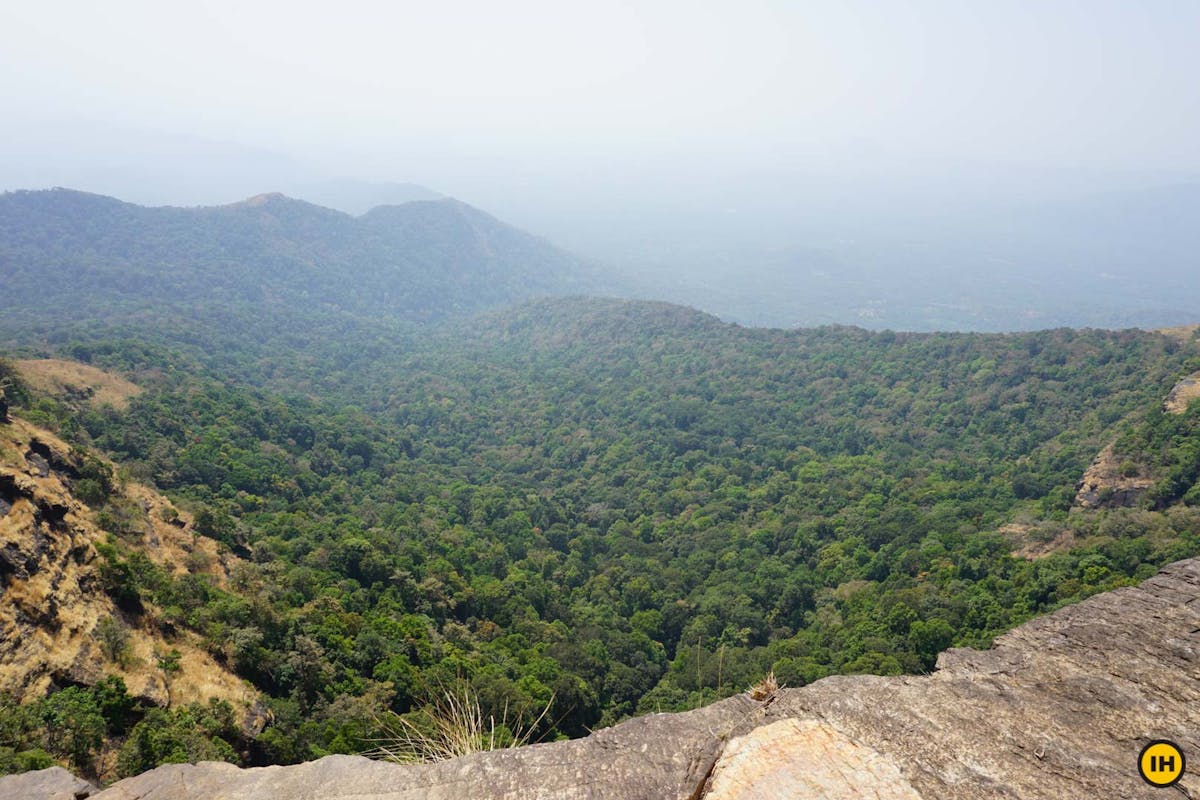 The forests of Dakshina Kannada are in front of you, while haze covers the view on your right on the days leading to summer.
Ensure you spend your time generously at the snout. Soak your feet in chilled flowing water to get relief from all the tiredness. This is an ideal place to have your packed lunch.
| Green Note: Please trek responsibly and take back disposable plastic wrappers, bottles and packaging with you and dispose of them in a dustbin once you reach your city. Do not leave behind your waste.
Close your eyes and reflect on your journey to the top. Notice the silence and the sounds of nature. Relax your over-worked muscles before you start your journey back to base. Because you will take the same route back, you must be cautious on the tricky sections and move slowly and steadily. A slip may cause you to fall and injure yourself.
Route Map Of The Ballalarayana Durga – Bandaje Arbi Trek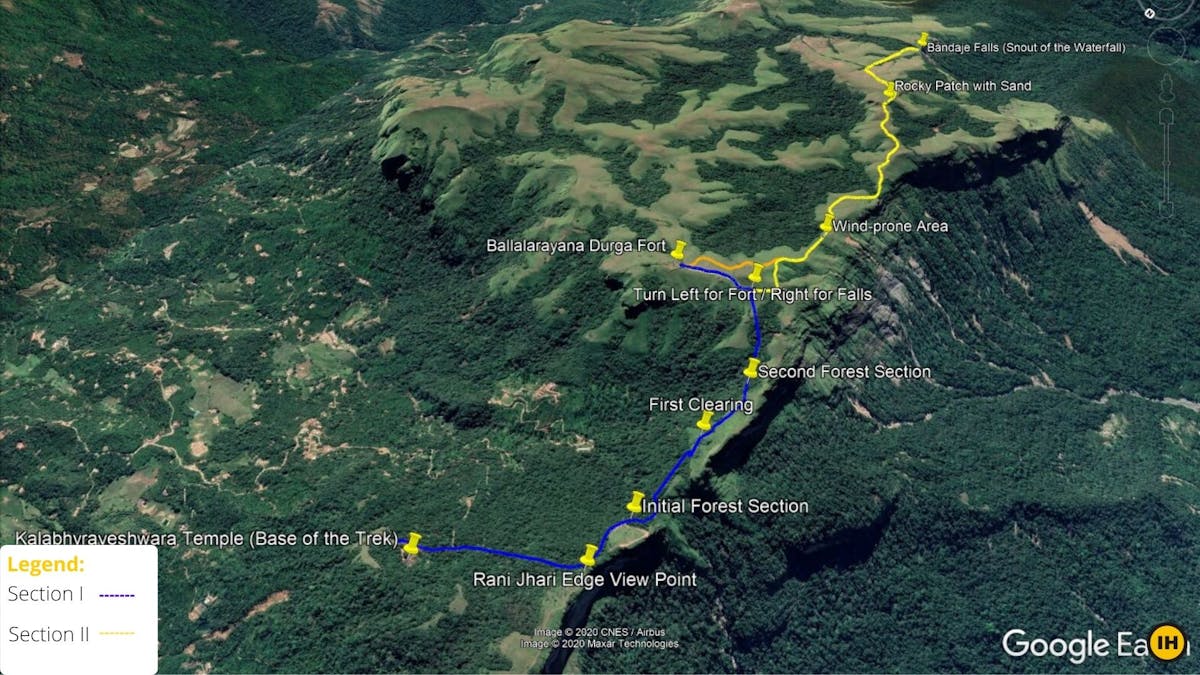 Route Map of the Ballalarayana Durga trek. Screenshot on Google Earth Pro
Best Time To Do Ballalarayana Durga – Bandaje Falls Trek
Ballalarayana Durga trek can be done from monsoons through the end of winter (July – March). You will get the best experience if you do the trek in monsoons, as the entire valley is lush green and the grasslands seem like they are straight from the Himalayas. also, Bandaje falls are gushing in full force!
Compared to Kumara Parvatha, which cannot be done in the monsoons due to risky terrain, Ballalarayana Durga is a treat to do in the monsoons. it is one of the few treks in the Western Ghats that you can do in monsoons.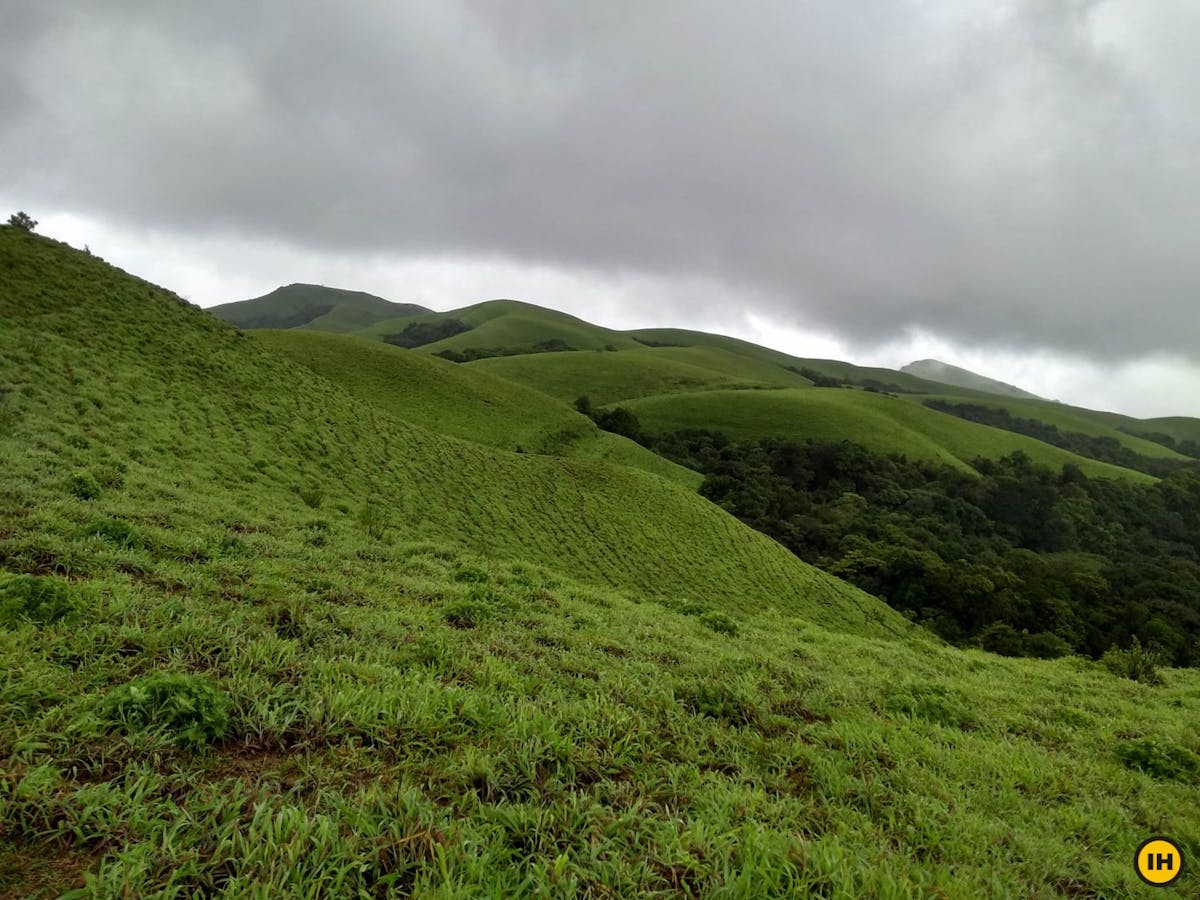 Shola grasslands in monsoon season.
On the other hand, if you want crystal clear views of the surrounding Ghats and Kudremukh National Park, choose post-monsoon and winter seasons when the skies are not hazy.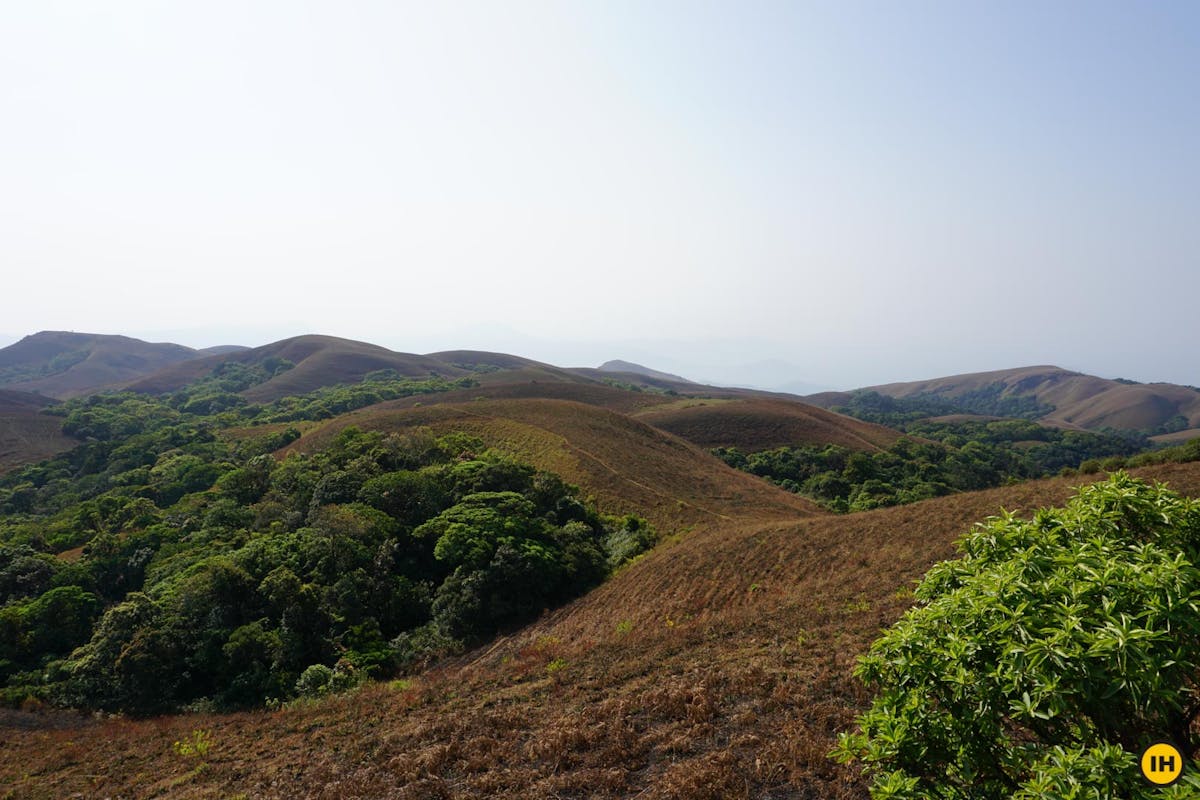 Shola grasslands in the winter season.
Autumn and winters make up with panoramic views that are missed in the monsoons, while the monsoons make up for the views by presenting a vibrant carpet of grasslands and roaring waterfalls.
The reason why we do not recommend this trek in summer is because of the dry grasslands and very hot climate. Since there is no shade except the forest sections before reaching the fort and after reaching the waterfall, the sun and humidity drains you out quickly.
How To Reach Ballalarayana Durga – Bandaje Falls Trek
Before you plan your travel, watch this video to know how to do the Ballalarayana Durgra trek by yourself:
Ballalarayana durga – Bandaje Arbi Rrek falls in the Chikmagalur district and is 280 kilometres from Bangalore. The route passes through Hassan, Belur and Mudigere, ultimately reaching Sunkasale and Durgadahalli.
Since the trek starts from a remote location, driving to the place is ideal and that makes it a very rewarding trek with the right amount of leisure and rest, before and after the trek. Reaching through public transport is possible. It just takes longer and you will have to walk a lot more to reach the base. However, it is no less fun!
If you are up for an adventure, then consider reaching the base by bus.
• Reaching Ballalarayana Durga – Bandaje Falls Trek By Your Vehicle from Bangalore
The journey from Bangalore to Sunkasale / Durgadahalli takes you through some of the beautiful roads in Karnataka. Watch out for the greenery that accompanies you after belur until you reach sunkasale. Durgadahalli is another 6.5 kilometres from Sunkasale and the Kalabhyraveshwara temple at Durgadahalli is the base of your trek. The temple is less frequented by locals, considering the remote location and the population in Durgadahalli is also less.
Right behind this temple, you will find an open space on a mound which is quite secluded. This is where you camp. Use this link to set up GPS before you start your journey. if you cannot access google maps, here are the directions to follow:
| Tip: We recommend you leave Bangalore by 8 AM and visit the Channakeshava Temple in Belur. If you leave by 7 AM, you can also visit Hoysaleswara Temple in Halebidu by driving back 17 kilometres from Belur. This adds another 35 kilometres to the overall journey.
Near the temple, you will find a water tank that can be used to freshen up in the morning. Please note this water is not suitable for drinking.
Reach the base by 4 pm, pitch your tents at the camp and go for a quick hike to Rani Bagilu to witness the grand views of Kudremukh National Park from the Rani Jhari view point. This is the best thing to do before you retire for the day.
Reaching Ballalarayana Durga – Bandaje Falls Trek By Public Transport System
As mentioned earlier, reaching here by bus takes longer and you have to switch multiple buses. There are both government run and private buses that play to Horanadu. Most buses start from Bangalore after 10:30 pm and reach Mudigere around 5:30 am the next morning.
If you are travelling through KSRTC, from Majestic bus station Bangalore, take a bus to Mudigere.
Here is the link to KSRTC Online Booking: https://ksrtc.in/oprs-web/
If you are travelling through a private operator, there are multiple pick up points in Bangalore. Choose the one that is nearest to you and get down at Mudigere.
Here is the link to book Private Buses Online: https://www.redbus.in/
| Note: It is a best practice to book your bus tickets online and not wait till the last moment.
Mudigere is a busy town. You will get buses at frequent intervals to Sunkasale. Take a bus from Mudigere to Sunkasale. Stock up on drinking water (minimum 2 litres) here as there are no drinking water sources at the base, except for a water tank to freshen up in the morning. There are very few vehicles that ply from Sunkasale to Durgadahalli. Ask around for a jeep or a minibus that goes to Durgadahalli. If you are lucky, you will get a ride. Otherwise it is a 6.5 kilometre walk to the campsite, where you pitch your tents.
Is The Ballalarayana Durga – Bandaje Arbi Trek Difficult
There are no sections that are difficult to traverse on the Ballalarayana Durga – Bandaje falls trek. Since the entire trail is continuously rolling, a trekker must always anticipate and prepare for every eventuality.
Here are a few sections you must keep an eye out for while ascending and descending:
• Slippery Trail: The trail becomes more tricky during monsoon months as the mud and loose gravel become very slippery and great caution must be taken while traversing. Trekkers must be very careful with their choice of footwear and should check weather charts so as to avoid days with anticipated heavy rains.
• Grassland sections: Watch out for the steeper sections after Ballalarayana Durga fort. The grasslands are rolling and you descend down to the snout of the waterfall. You will also climb back up to the fort. Some of these sections include loose stones and gravel that can be tricky to navigate.
Use your trekking poles to support yourself and make sure you grip your feet firmly so as to not slip in this section.
• Rocky patch at the snout of the waterfall: The snout of the waterfall takes you to the very edge from where the water drops down for more than a 1000 ft. This is the most dangerous section of the trek. Exercise great caution here, especially during monsoons as the rocks are slippery.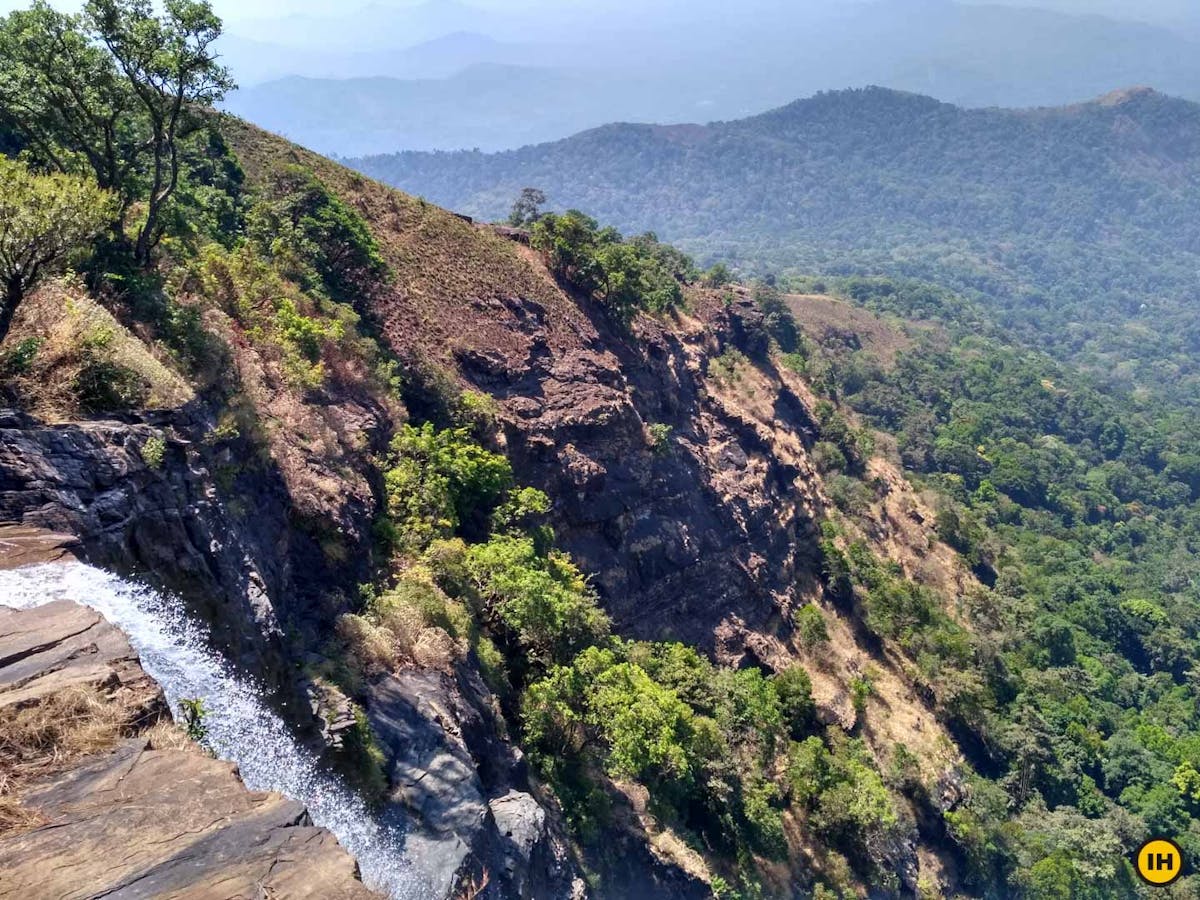 The rocky patch till the snout of the waterfall is very slippery during monsoons. There is almost a 1000-foot drop from the edge. Picture by Suhas Saya
| Safety advice: Lie down at the snout to see the water flowing down, so that only your head is exposed and your bodyweight holds you back. If you don't want to lie down, ask your friend to provide support by holding your hand and staying back, while you take a peek down below.
How To Get Fit For Ballalarayana Durga – Bandaje Falls Trek
The Ballalarayana Durga – Bandaje Arbi trek is classified as an Easy-Moderate grade trek. from the base, you will gain approximately 875 feet in altitude till the fort and gain another 1,330 feet while returning from the waterfall. Although the altitude gain is not very high for a day trek, the rolling ascents and descents over 12 kilometres can be demanding for people who lead a sedentary lifestyle.
Training yourself for an Easy-moderate grade trek
Here's a guide to help you get fit for the trek in 4 weeks:
? Cardiovascular Endurance
In case you're just starting with a fitness routine, start slow and increase your pace everyday in the following manner –
Target completing a jog of 5 km in 45 minutes when you begin.
Gradually increase your pace by running 5 km, 4 times a week.
As you become more comfortable, introduce another day of running in your routine.
Progressively increase the distance you run in a workout until you can complete 5 km in 40 mins.
If you prefer cycling over running, target covering 15 km in 60 minutes when you begin.
Progressively increase your pace to cover 20 km in one hour.
? Strength Training
This is an important area you need to work on.
Strength training is equally important to trek comfortably. Work on your glutes, calves and knees. Additionally, work on strengthening your core.
You must strengthen your core muscles. For strengthening your core muscles, holding a plank and it's variations (elbow, side planks) are the best exercises to go about doing it.
Also, try these exercises for strength:
Target 4 sets of squats with 20 in each set.
– Squats (Mix it up with sumo squats)
– Lunges (Forward, backward and lateral lunges)
– Planks
? Flexibility
Flexibility determines the amount of movement your bones can make in any direction around joints such as shoulders, elbows, hips and knees.
It is an aspect that will help you trek comfortably. Carrying a backpack, however light, can become a strain. Stretching your hamstrings, quadriceps, hip flexors and lower back muscles regularly, promotes relaxation in the tissues reducing the strain on your back. If you can't go out and jog because of time and space constraints, here's a video you can use to work out indoors.
Things To Take On Ballalarayana Durga – Bandaje Falls Trek
Basic First Aid kit*
Identity Card
Cap/ Scarf/ Bandana & Sunglasses
Water (Minimum two litres)
Lemon and salt OR Electrolyte Powder/Drink (Electral/Gatorade/Glucon D, etc.)
High-calorie snacks (Nuts & dry fruits, home-baked cake, etc.)
Safety Pins, Rubber bands & Whistle (Useful in emergencies.)
Quick Dry T-shirts are preferable over cotton tees.
A warm layer (Pull over, sweater or a jacket)
Poncho, only during post-monsoons
Plastic sheet to wrap electronic devices, only during monsoons
Sunscreen (SPF 50+)
Trekking poles
Tent (3-Person or 2-Person – Depending on the number of people sharing)
Sleeping Bag
First aid kit:
Scissors
Band aids (Regular & Waterproof)
Analgesic spray (Relispray, Volini, etc.)
Antiseptic Liquid (Savlon, Dettol etc.)
Antiseptic powder (Povidone-Iodine based powders like Cipladine, Savlon, etc.)
Cotton roll & Bandage
Crepe Bandage
1 inch wide medical tape (paper or cloth.)
Micropore tape
Tablet for motion sickness (Avomine), Acidity (Gelusil, Digene, etc.).
Mild pain relief tablet (Crocin)
| Note: Always consult a doctor before taking any medicine.
Frequently Asked Questions
1. Is there any alternate route for this trek?
Yes. Ballalarayana Durga trek can be done in reverse which starts from Dakshina Kannada district. You will start from Mundaje. Gowdara Mane is your starting point of the trek. Reach Bandaje falls through dense forest section, trek to Ballalarayana Durga fort and descend down to Kalabhyraveshwara temple.
2. Can I do this trek if I have never been on a trek before?
Yes. A person who follows an active lifestyle, can consider Ballalarayana Durga as their first time trek. For people who lead a relatively sedentary lifestyle, we recommend a bit of preparation before attempting to trek.
3. Do I need to obtain permission for trekking to Ballalarayana Durga?
Yes. Until 2019, you could trek without permission from the Forest Department. Now, you need to obtain permission before attempting to trek. You must visit Karnataka EcoTourism online and purchase a ticket. It costs Rs.250 per person. Here's the link to purchase the ticket: https://www.karnatakaecotourism.com/treks
You may even call up the Forest Department personnel, Mr. Naveen Kumar M C on +91 9480916228 to enquire about the trek.
4. Where can I get food and water during the trek?
There are no restaurants at the base of the trek. There are very few small eateries in Sunkasale. Except these, there is no other source of food on the trail. It is advised to pack your food from Bangalore which is not perishable. Something like Bread and Jam/Peanut Butter, Roti, etc., will not go bad so easily.
Note: Remember to get sufficient food for Dinner on Day 1, and Breakfast and Lunch on Day 2.
With regards to water sources, although there is a water tank near the temple at the base, the water is not suitable for drinking. We recommend filling your water bottles at Sunkasale before starting the trek. If you have extra water bottles, fill them all up at Mudigere, in case you do not get water at Sunkasale. Once you start the trek, the next water source is Bandaje falls, which is after 6 kilometres.
5. Whom do I contact in case of an emergency?
• Hospital: The closest hospital is Sri Manjunatha Memorial Hospital & Kaveri Hospital in Kalasa, which is 30 kilometres away from the base. (Contact: +918263274628)
• Police Station: The police station closest to Ballalarayana Durga is the Kalasa Police Station. (Contact: +919480805159).
• ERSS: For any kind of emergency help, you can contact the Pan-India Emergency Response Support System (ERSS) number- 112.
6. What about mobile network and ATM facility on Ballalarayana Durga trek?
| | |
| --- | --- |
| Mobile Network | You will get mobile network for almost all major operators like Airtel, Vodafone, Jio etc., only at the base. You will be out of the network coverage area throughout the trek. |
| Nearest ATM | Mudigere is where you will get ATMs, which is roughly 40 kilometres away from the base of the trek. So, make a quick stop at Mudigere and withdraw cash so that you don't run out. |
7. Do I need a guide to trek Ballalarayana Durga?
The trail is clearly marked from the base. Once you reach the Rani Jhari view point, the section from there till Ballalarayana Durga fort is faintly visible. Although this doesn't make you lose your way. You can retrace your steps back and be on the right track in case you go off course. We do not recommend a guide on this trek.
8. Can I camp anywhere on the Ballalarayana Druga – Bandaje Arbi falls trek?
No. You can pitch your tents only on the clearing behind the Kalabhyraveshwara temple. Pack your tents and leave them in your vehicles before starting the trek. You are not allowed to carry tents on the trail. If you have reached the base by bus, leave your tents at one of the local's houses and request to look after them either in Durgadahalli or Sunkasale before starting your trek.
9. Are there leeches on the Ballalarayana Durga – Bandaje Arbi falls trek?
You will definitely have the company of leeches throughout the trail if you are trekking in the monsoon season.
| Tip: Apply Dettol or Savlon at the base to avoid leeches if you are scared of them. If you are not too worried, the best option is to remove them once you reach Bandaje falls. A few leeches sucking a few drops of blood won't do any harm. During winters, there will not be any leeches on the trail.
10. Where can I park my vehicle?
Vehicles can reach till the base of the trek with ease. The base is well connected by road. There is parking space right at the base. So, you can park your vehicle and start the trek right from the campsite!
Nearby Places To Visit After Ballalarayana Durga – Bandaje Arbi Trek
Ballalarayana Durga trek is nestled in the Western Ghats and is close to so many attractions in Chikmagalur district. Here are a few places to visit after your trek to Ballalarayana Durga. Remember, these places require half a day or a complete day to visit and explore. So, plan to visit these places only if you have a few more days to spare after the trek.
? Kudremukh Trek – Trek to the third highest peak in Karnataka, which is also Karnataka's most beautiful trek.
? Aane Gudda Trek – A perfect Western Ghats trek for a beginner, it remains largely unexplored and is nestled within the laid-back, peaceful village of Haluvalli, that is very close to Ballalarayana Durga trek.
? Ettina Bhuja Trek – Ettina Bhuja is one of the prettiest treks in the Charmadi range. Panoramic views of the Charmadi range and Shishila valley can be seen from the peak. It is surrounded by many more hills like Deepadakallu, Amedikallu, Ombattu Gudda and Jenukallu Gudda.
Did you like it?
Please Rate it below: