Below is a list of best places of interest along the Bangalore to Mysore highway which includes good restaurants, temples, fun parks, travel point etc. From the list, choose the best place of interest along the Bangalore-Mysore highway and know which suits you the best.
Nice drive on the NICE road from Bangalore to Mysore:
A nice drive on the NICE road from Bangalore towards Mysore is worth enjoying.
Bannerghatta National park
7-8 Kms off the NICE road is the Bannerghatta national park. One of the best places for the family outing and outing with kids. Here is the link for the official website of the Bannerghatta national park.
Lover's point, Bangalore
Have heard a lot of this place but I physically have not been there once. Its situated in Anjanapura township. The location could be found out by typing "Lover's Point, 60 Ft Rd, Anjanapura Township, Bangalore, Karnataka 560083″ on google maps.
NICE road official office:
The NICE office is the main office for the NICE highway corridor project highway from Bangalore to Mysore. There is a big lawn over there and one can go there with little snacks and cold drinks to enjoy with family on a clear cold day on a sprawling green lawn.
Please do not litter the place. This place can be searched over google map by using "NICE Office, NICE Ring Rd, Bangalore, Karnataka, India". Its open from Morning 6 to evening 8. 
Wonder-la
The Wonderla is an amusement park situated just off the NICE road, Bangalore-Mysore highway. This place is usually crowded on weekends. Official link for Wonderla, Bangalore
Innovative film city
Innovative film city is famous for amusement park inside the film city compound. Apart from that, one can buy a ticket to spend some time over there inside the film city. Here is the official link for innovative film city
Ramanagara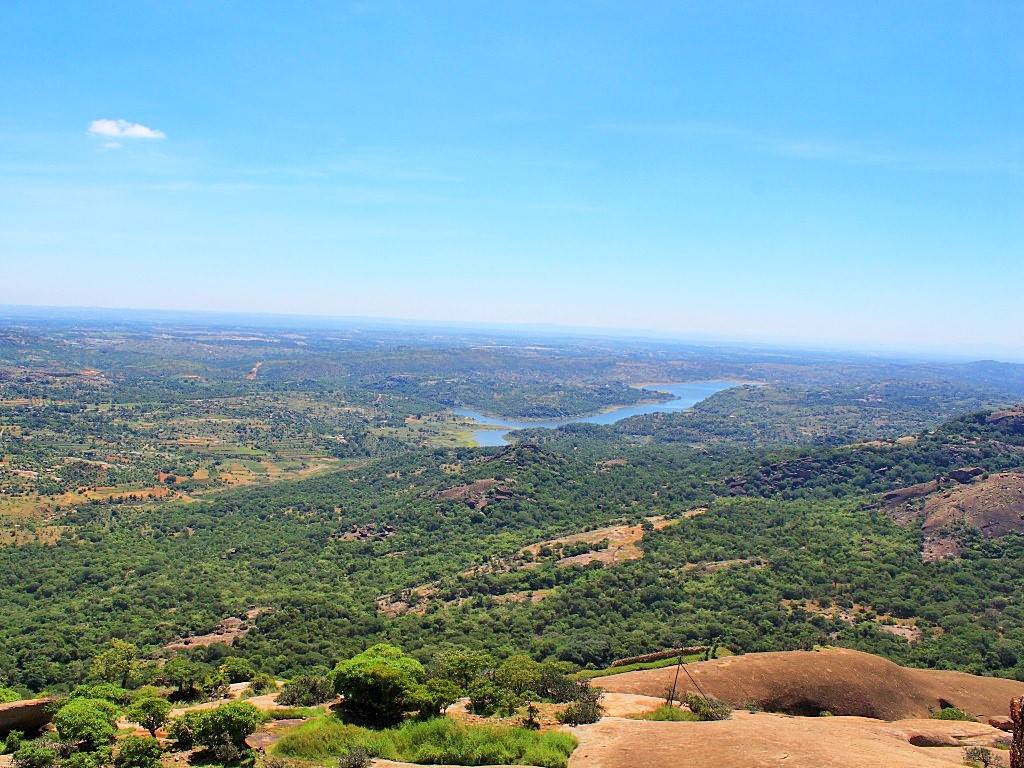 Ramanagara is famous for the shooting of the famous Bollywood movie "Sholay". Apart from that, it's also famous for small trekking hills. places and lakes around the town. You might also be interested in one-day treks around Bangalore then.
If you are a great fan of nature and you want to drive to a place which is not so crowded on weekends then this driving to Kanva reservoir is for you. The road is lonely and you can enjoy the aloofness of the place as well. Make sure you go there on a clear day. It is just 4-5 Km off the Bangalore-Mysore Highway.
ChhennaPatna
Chhenapatna is famous for wooden toys and local dishes.
Srirangapatna is famous for the fort of Tipu Sultan, the temple of Lord Vishnu in sleeping position in the same area complex.
Panchamukhi Ganesha Temple, Nice Road
Panchamukhi Ganesha temple is a nice place to take a stop on the Bangalore-Mysore highway. It is near the Basava Nagar bus stop or just near the point when you leave the Nice road towards Mysore and 200 meters after the toll.
The Art of living international center
There are some very interesting places to see inside the art of living facility such as
Annapoorna kitchen
Sri Sri Panchakarma
Vishalakshi mantap
Annapoorna Kitchen serves Satvic food and the food here is cooked with steam produced from environment-friendly boilers using briquettes. On the other hand, Vishalakshi Mantapa is a meditation hall consisting of five tiers with designs of lotus petals surrounding it. Symbols of all major religions of the world are depicted inside the hall.
Below is the list of the good and theme-based restaurants along the Bangalore-Mysore highway.
Malgudi 

Vatika
Malgudi Vatika has been themed as a romantic place for couples and a veggie-friendly restaurants. They also have weekend buffet breakfast and unlimited snacks options. The price is also not so high. Malgudi Vatika on Google maps.
A2b (Adyar Ananda Bhavan) on Bangalore-Mysore Highway
Just for dinner, you can drive to this place. A2b Bangalore-Mysore Highway on Google maps. We once drove on a rainy evening to here along the nice road. A2B is a good place to go with family as well. There are two areas there. In one, you do not get service and another one is the serviced area.
I would recommend this restaurant for the south-Indian taste. This restaurant is after Bidadi. There is also another A2B on the Bangalore-Mysore Highway after the town of Madduru.
Rasta cafe Bangalore
Rasta cafe is one of the most famous places to hang out outside of Bangalore and this place is particularly popular among youngsters. This cafe is mostly open throughout the night and closes only in the morning from 5 Am to 9 AM.
This place is little overpriced and usually very crowded on the weekends. They have open dining areas as well and they serve Hookah as well. Be aware that you might have to wait a long for your order on weekends. Rasta cafe on Google map.
Kamat Lokaruchi restaurant
I would personally recommend this place if you are a big fan of authentic local food. They have really yummy authentic Kannada food like Mudu idli with Sambar, amazing tea, and coffee, buffet breakfast, Jowar roti, Raagi balls, Akki roti, Kesaribath etc. However, you might get disappointed at weekends because of the crowd. Kamat Lokaruchi on Google maps.
Right-O
Right-O is basically a food joint with different food shops under one roof like Biryanistan, Subway, Marhaba, Shanghai times, up south, CCD, Polar bear, Pizza corner etc.
So, I would recommend this place if you are traveling with a crowd and everyone wants to have their own meal. Looking at the shops' name above, you can easily figure out that they serve different foods like pizza, Biryani, South Indian dishes, Nonveg, Chinese, fast food, ice creams and much more.
There is no AC here though but they have enough sitting space. Veg by nature and Up-South have really good reviews on the internet. Right-O on Google Maps.
Poojari's Fish Land
 If you want to try Mangalorean style fish dishes, fish curry,  seafood etc. these restaurants is for you. Poojari's fish land comes after the town of SriRangapatna. There is ample space for dining and so for the car parking with outdoor seating available and TV projection as well. Poojari's fish land on Google maps.