Muttukadu boathouse is situated on the East coast road, ECR, on the outskirts of Chennai. Muttukadu is famous for boating on the backwaters.
Muttukadu Boating information & price:
36 Kms from Chennai on East coast road aka ECR towards Mahabalipuram
Open from 9 AM to 5 PM & run by TTDC
A variety of boating choices:

Row boating for Rs 130 for 30 minutes
Speed boating for Rs. 450 for 10 minutes
Power boating for 8 members for Rs. 350
Shared Boating 30 minutes ride cost Rs. 50

Contact: 9952995827
Muttukadu Boathouse is situated 36 Km from Chennai and 23 Kms from Adyar along the East coast road or the road towards Mahabalipuram. Muttukadu boating is done over Muttukadu backwaters. The backwaters are formed due to a lake connected to the Bay of Bengal to the East of Muttukadu Boathouse.
Muttukadu has become famous as a weekend outing place or a picnic place for people from Chennai in recent years. And it becoming one of best places to see in Chennai. From the safety point of view, everyone on boating is given a life jacket.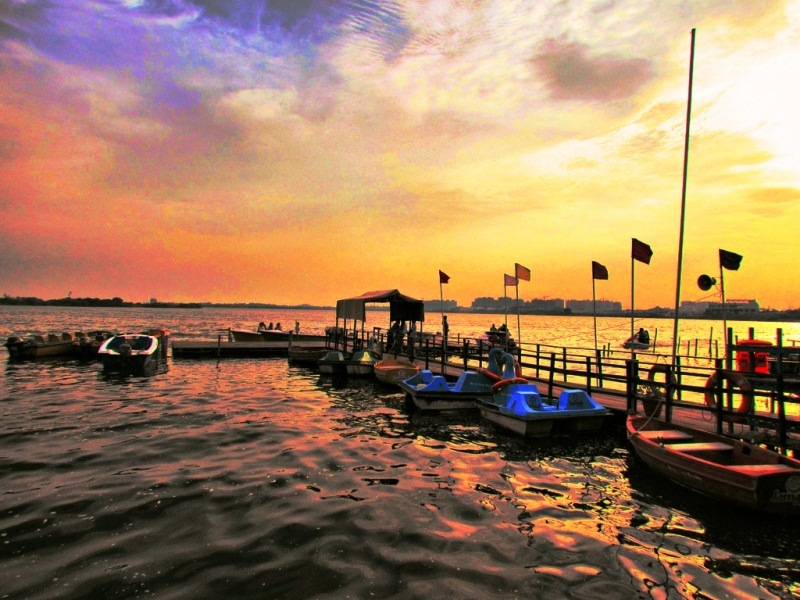 Muttukadu Boat House, Chennai, in evening
This place is an ideal choice for family outings for a day. You can spend some peace time with your family away from city life, enjoy nice ride along ECR, have boating fun together. After purchasing the ticket, people wait inside the waiting room which is made up of bamboos and looks great. They announce your turn over mike and then accordingly people catch the boat.
Wooden dock from where people ride a boat
A closer look at Muttukadu Boating
Feels great to walk over wooden dock over water
Drivers of powerboat takes us first towards city, the west end of backwaters.
Return, go eastwards towards sea
Crossing under the ECR bridge is really very exciting part of it.
If asked driver can cross under the bridge twice or thrice
This total power ride fun lasts for about 30-40 mins.
Other places of interests near by along ECR (East Coast Road) are:
MGM Beach resorts: 1 Km
Dakshinachitra heritage center: 2 Kms
Covelong aka kovalam beach: 4 kms
Crocodile park, vada nemmeli: 10 kms
Mahabalipuram: 22 kms
---
Did you like it?
Please Rate it below: